Four Syrian soldiers were killed on Sunday in an airstrike by the U.S.-led coalition, the first time that Syrian government troops have been targeted since the West's anti-Islamic State (IS) air campaign started over a year ago, pan-Arab al-Mayadeen TV reported on Monday.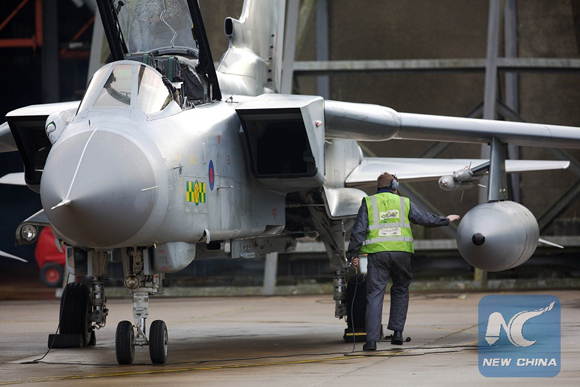 Pilots and ground crew prepare a Tornado GR4 aircraft at the British Royal Air Force airbase RAF Marham in Norfolk in east England on December 2, 2015 [Photo/Xinhua]
Syria's Foreign Ministry said four coalition warplanes fired nine missiles at a Syrian military camp in Ayash area in the eastern province of Deir al-Zourm, killing four soldiers and wounding 13 others.
The attack also destroyed three armored vehicles, four personnel carriers and machine guns.
Syria has condemned the airstrikes as "an impediment to the counter-terror efforts and stresses again the coalition lacks credibility and seriousness in fighting terrorism effectively," the ministry said.
It was the first time that the U.S.-led coalition has targeted Syrian government forces since it started air operations in Syria against the Islamic State (IS) over a year ago.
The attack, which happened when the Syrian army was fighting terror groups across the country, has threatened regional and international peace and stability, the foreign ministry said.
Syria has called on the international community to condemn the attack and make sure it never happens again, adding that the incident runs counter to the United Nations Charter.
Syria has repeatedly questioned the intention and seriousness of the U.S.-led coalition in the war on terror, especially after recent involvement of French and British warplanes in the coalition.