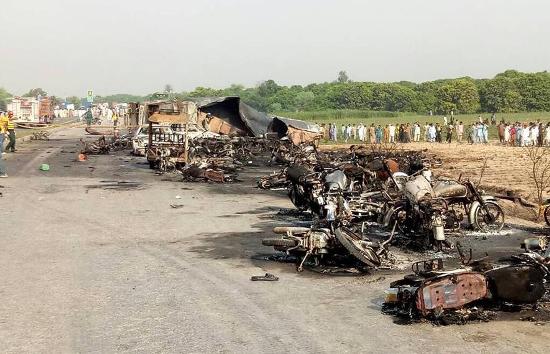 Photo taken with a mobile phone shows burnout vehicles at the accident site in east Pakistan's Baahawalpur, a district in Punjab, on June 25, 2017. At least 120 people were killed and over 100 others injured in an oil tanker fire Sunday morning, said hospital sources. (Xinhua)
At least 123 people were killed and over 100 others injured in an oil tanker fire that broke out in Pakistan's eastern Punjab province on Sunday morning, said rescue officials and hospital sources.
Muhammad Baqir, an official in charge of the rescue work, said 123 people were killed in the fire while over 100 others suffered from burn injuries.
Dr. Aurangzeb, medical superintendent of Victoria Hospital in Bahawalpur, a district in Punjab where the incident happened, confirmed that 120 bodies and over 100 injured people have been received by different hospitals in the district.
The death toll could further rise as 31 injured people are in critical condition, he said,
The incident happened at about 6:30 a.m. local time on Sunday when large crowds of people gathered at a capsized oil tanker site to collect the spilled out oil on a national highway in Ahmad Pur Shaqia, a sub district under Bahawalpur, which lies about 400 km southwest of Lahore, capital of Punjab.
The oil tanker turned turtle due to burst tires, local media quoted eyewitnesses as saying.
The cause of the fire is still under investigation, said local police.
Local media reports speculated that the fire could have been caused by smokers on the site.
Three fire engines have been dispatched to the site following the report of the oil tanker fire, said local fire department officials, adding that the fire has been put off.
A total of 75 motorbikes and six vehicles were destroyed in the fire, said local police.
Many people from nearby villages came on motorbikes to collect the oil spilled out from the capsized oil tanker after the incident occurred, eyewitnesses told media.
Six vehicles including one traffic police vehicle were engulfed by the fire, said police.
Pakistan Army Chief Qamar Javed Bajwa and Chief Minister of Punjab Shahbaz Sharif both expressed sorrows over the incident.
The army chief has instructed the army to participate in the rescue work and military helicopters have been dispatched to the site, Inter-Services Public Relations, a media wing of the army, said in a statement.
Shahbaz has directed the concerned authorities to provide the best possible medical treatment to the fire victims.