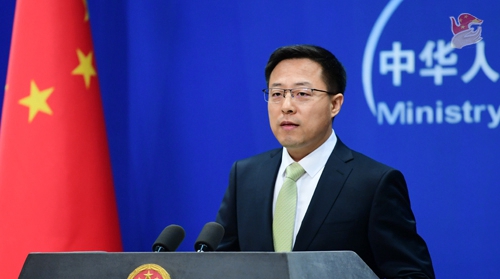 During a daily briefing on Tuesday, China's Foreign Ministry spokesman Zhao Lijian said that the leader of the United States was trying to smear China's efforts and shift the blame of U.S. incompetence onto others when he was asked to comment on a letter published on Twitter by the U.S. president threatening to permanently defund the World Health Organization (WHO).
"China has chronologically expounded our work of prevention and control of the novel coronavirus disease many times. The WHO also made clarifications to some obvious mistakes in U.S. accusations," Zhao responded.
He said the U.S. leader's letter was full of ambiguous wordings in an attempt to mislead the public.
This response comes after Trump sent a letter to Director-General of the WHO Tedros Adhanom Ghebreyesus on Monday.
"If the organization does not commit to major substantive improvements within the next 30 days, I will make my temporary freeze of United States funding to the WHO permanent and reconsider our membership in the organization," Trump wrote in the letter.
Last month, Trump temporarily halted funding to the organization, accusing it of "severely mismanaging and covering up the spread of the coronavirus" and being "China-centric."
"Picking on China while shirking and bargaining away its own international obligations to the WHO, the U.S. has obviously miscalculated the situation and made a futile attempt," Zhao said.
China has been voicing firm support for the WHO. At the opening of the 73rd World Health Assembly on Monday, China pledged US$2 billion over two years to help with the COVID-19 response and socioeconomic development in affected countries, especially developing countries.
"As the international fight against the pandemic is now at a crucial stage, supporting the WHO means supporting the purposes and principles of multilateralism, supporting international cooperation against COVID-19 and saving lives," Zhao Lijian added.