Editor's Note: The following piece is written by Zhou Muzhi, professor of Tokyo Keizai University.
Why does Japan with world-leading healthcare capacity have to extend lockdown measures again and again and yet is unable to control the COVID-19 pandemic? With the countdown clocks clicking, will the Tokyo Olympics be open on schedule? What are the "Zero COVID-19 Case Policy" and the "Coexisting with COVID-19 Policy?" Professor Zhou Muzhi will give explanations in detail to these questions as Japan announced to extend the third COVID-19 lockdown.
On May 7, the Japanese government extended the third state of emergency formerly scheduled to end on May 11 to May 31, and added Aichi and Fukuoka prefectures to the lockdown list. The extension means that Japan's lockdown measures had failed to reach expectations.
On April 8, 2020, Wuhan reopened after a 76-day lockdown brought on by the COVID-19 outbreak. Just the day before, Japan announced its first state of emergency on Tokyo, Saitama, Kanagawa, Chiba, Osaka, Hyogo, and Fukuoka, which then expanded to the rest of the country and had lasted for 49 days.
On Jan. 8, 2021, Japan announced the second state of emergency on the nation's capital and the neighboring prefectures of Kanagawa, Saitama and Chiba, which lasted 73 days.
On April 8, 2021, the one year anniversary of Wuhan's reopening, Tokyo Governor Yuriko Koike asked the central government to apply pre-emergency measures in the capital to stop a further spread of novel coronavirus infections.
The pre-emergency measures are a less stringent policy by the Yoshihide Suga administration to buffer the socioeconomic impact brought by the lockdown, which includes shortening operating hours for restaurants and encouraging people to avoid cross-regional movements.
Unfortunately, those measures failed to control the spread of COVID-19 and Japan later announced the third state of emergency on Tokyo, Osaka, Kyoto and Hyogo.
The problem is: Why could China's lockdown measures reach the expected outcome once and for all, while Japan needs to place new lockdowns time and again?
1. IncompleteJapanese-stylelockdown policy
The point is not that the state of emergency measures are too strict which need a pre-emergency alternative, but that the original measures were not enough to contain the COVID-19 outbreak. There are three reasons for the failure of Japan's lockdown policy.
(1) Relaxed lockdown measures
First, the state of emergency measures do not ask for a complete cut down of people's contact, but rather to reduce their contacts by 70% to 80%. So Japan's measures are too relaxed compared with those of China, which require the shutdown of businesses, schools and traffic, and avoids people's movement and contacts.
Even with this relaxed lockdown measures, Japan's daily COVID-19 infections were reduced significantly after the first state of emergency, reaching visible outcome to contain the virus.
(2) No demand for zero infections
Wuhan reopened after the city reported no new infections for 16 days in a row. Unlike the situation in China, Japan lifted its first state of emergency on May 25, 2020, when the country reported 20 new infections, thus sowing the seeds of a future resurgence in COVID-19 cases.
Its impact was severe. A week after Japan lifted the state of emergency, Tokyo issued an alert to residents urging additional caution against the coronavirus pandemic, after a spike in new cases.
(3) Encouraging people's movement
To make matters worse, Japan made the premature move of encouraging people's movement. On July 22, 2020, Japan launched the "Go To Travel" campaign in regions outside Tokyo by subsiding people's cross-regional travel. On that day, Japan reported a total of 792 new COVID-19 infections, which was 1.1 times that of the peak during its first state of emergency. That was a rather bold move with little consideration of its impact.
The outcome was immediately visible.Ten days later, Japan reported a daily new infections of 1,575, 2.2 times that of the peak during the first state of emergency. However, Tokyo was included in the "Go To Travel" campaign on Oct. 1.
With mounting anti-epidemic pressures and wide-spread criticism, the Japanese government suspended the campaign on Dec. 28, 2020. Twelve days later on Jan. 8, the country announced the second state of emergency.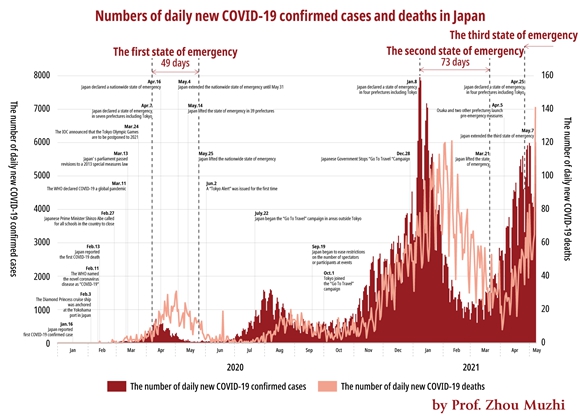 Chart: Japan's daily new infections and deaths of COVID-19
2. 'Zero COVID-19 Case Policy' VS 'Coexisting with COVID-19 Policy'
Unlike Japan, China adopted the "Zero COVID-19 Case Policy" aimed to wipe out all cases. The Chinese government issued risk-grading criteria on Feb. 18, 2020, classifying counties, cities and districts that report no cases or no new cases in the past 14 days as low-risk areas.
After successfully containing the first outbreak, China still stuck to the "zero case" goal across the country. Once a new case was confirmed, strict restrictions and massive testing would be implemented immediately to block the spread of COVID-19.
Developed countries, such as the European countries, the U.S. and Japan, resorted to lockdown measures that had produced markedresults, but they hastened to lift lockdowns prematurely due to fierce opposition to restrictions on human and economic activities.
A study by the Germany-based IFO Institute for Economic Research and the Helmholtz Centre for Infection Research was released on May 13, 2020. The study said keeping the Rt (the effective reproduction number, referring to the average number of people who become infected by an infectious person) at 0.75 provides the safest balance between hammering out output and risking a new outburst of infections. In other words, keeping the Rt at 0.75 can minimize the economic costs without jeopardizing the medical objectives. The study is an endorsement of the "Coexisting with COVID-19 Policy" in the academic circle. However, the report failed to come up with effective measures to keep the Rt at 0.75 in response to the highly contagious virus. Therefore, the golden balance put forward in the report is just a hallow theory. The report provides theoretical backing to the "Coexisting with COVID-19 Policy" adopted by European countries and the U.S., which was the scourge of later resurgence in those countries.
It turns out that the Europe, the U.S. and Japan haven't been able to effectively control the pandemic after repeated lockdowns and reopening.
3. Economic growth VS economic recession
The world economy was hard hit by COVID-19 in 2020, as GDP in real terms of Western countries slipped into negative territory, with the U.S. shrinking by 3.5%, Japan 4.8%, the U.K. 9.9%, Germany 4.9%, France 8.2%, Italy 8.9%, and Spain 11%. Those countries all implemented the "Coexisting with COVID-19 Policy." Their society and economy have been devitalized by repeated lockdowns and reopening and the "Coexisting with COVID-19 Policy" has led to a long-term economic recession.
On the contrary, China bucked the trend to post a 2.3% economic growth in 2020 thanks to its "Zero COVID-19 Case Policy." Vietnam and China's Taiwan who applied similar policies both posted an economic growth of 2.9% and 3.1%, respectively.
4. Will Tokyo Olympics go ahead as scheduled?
In Osaka, where coronavirus variants are raging, only 10% of patients can be admitted to hospital while many others have to stay at home waiting for beds. This could neither provide effective treatment for patients who are not hospitalized nor contain the spread of the virus, leaving the Osaka's medical system overstrained. Tokyo and other Japanese cities are taking and is about to take the same "grueling test" as Osaka.
Japan has pinned high hopes on vaccines. However, Japan has neither produced vaccines nor given greenlight to vaccines developed by overseas pharmaceutical companies, lagging far behind in vaccine rollout.
The Japanese policy prioritizes old people aged above 65 due to a shortage of vaccines. Even so, less than 1% of its 36 million senior people have been vaccinated.
In other words, by July 23 when the Tokyo Olympics open, Japan will be still unable to vaccinate its population, put rigorous quarantine measures in place, or provide sufficient medical support. If the Olympics have to open as scheduled, Japan will face the perils of coronavirus mutations, turning itself into a hotbed of variants coming from around the world.
Despite the looming dangers, Japan's leaders still insist on holding the Games as scheduled, and the media keep silent on the issue.
On May 5, Kenji Utsunomiya, a lawyer who had run for Tokyo governor multiple times, launched an online petition to cancel the Tokyo Olympic Games.
The petition had got more than 230,000 signatures in just two days as of May 7, beginning a battle between public opinions and politicians' obsession.