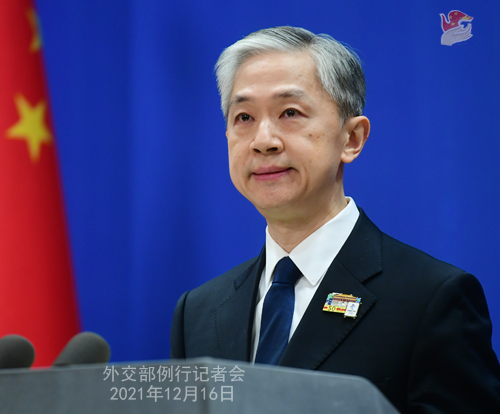 China dismissed concerns on Thursday over the safety of Lithuanian diplomats in China, saying that such allegations were groundless and Lithuania never raised any security concerns with China.
"The so-called claims that Lithuanian diplomats in China feared for their own safety or the Chinese government forbade its citizens from working for the country's office of the charge d'affaires in China are purely groundless fabrications out of thin air," said Foreign Ministry spokesman Wang Wenbin to reporters during a regular news briefing in Beijing.
The remarks came after Lithuanian authorities said on Wednesday they had summoned their top diplomat back from China for "consultations" and that they would operate remotely for the time being. Reuters reported that a group of 19 people comprising diplomats and dependents left Beijing.
Wang said China has always attached high attention to protecting the premises and personnel of foreign diplomatic missions and ensuring their normal operation, including that of Lithuania. "The Lithuanian side never raised to the Chinese side any concern over its safety," he said.
Last month, in disregard to China's strong objection and repeated dissuasion, the Lithuanian government approved the establishment of the so-called "Taiwanese Representative Office in Lithuania" in the Baltic state.
The move was a violation of the political commitment that Lithuania made in the joint communique on the establishment of diplomatic ties between China and Lithuania, and it openly created a false impression of "one China, one Taiwan".
In response to this erroneous act, China downgraded its diplomatic relations with Lithuania to the level of charge d'affaires, and demanded that Lithuania change the name of its diplomatic representation in China accordingly.
Ties undermined
Wang said the rights and wrongs about how China-Lithuania ties have been undermined are very clear.
"If the Lithuanian side does not face up to the reality, does not reflect and correct its mistakes and instead shirks its own responsibility, bilateral ties will be impacted even more with the feelings between the two peoples also harmed," he said, adding that it is Lithuania that suffers in the end.
"We urge the Lithuanian side to honestly abide by basic norms governing international relations, keep its own promises and correct its mistake that undermined China's national sovereignty and core interests as soon as possible," Wang said.