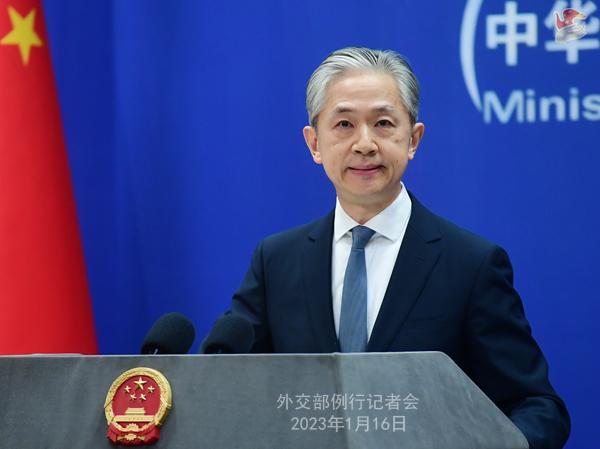 A Chinese Foreign Ministry spokesperson on Monday urged the United States and Japan to quit their obsession with containing and suppressing China, stop dangerously ramping up their military build-up and propagating chaos in the world.
The comments come after a recent joint statement by U.S. and Japanese leaders claiming that the Indo-Pacific region faces growing challenges, including from actions inconsistent with the rules-based international order by China. They also stressed their commitment to strengthening the U.S.-Japan alliance.
"The ugly playbook jointly used by Japan and the U.S. to tarnish China's image, interfere in China's internal affairs and suppress China's development is packed with danger and hypocrisy. We firmly reject it and have conveyed strong demarches," Spokesperson Wang Wenbin told a daily press briefing.
Wang pointed out that Japan's actions cause people to wonder whether it is tearing itself away from post-war peaceful development and fear the growing danger of history repeating itself.
"Our message for Japan is that anyone seeking to jeopardize and risk the security and stability of the Asia-Pacific will be rejected and pushed back by countries across the region," said Wang.
The United States preaches the so-called "rules-based order", but is second to none when it comes to undermining the international rules and order, Wang said, citing U.S. practices such as unwarranted invasions of other countries, arbitrary unilateral sanctions and muscle-flexing in the Asia-Pacific by deploying warships and military aircraft, among other things.
"It must be pointed out that China will remain firmly committed to the path of socialism with Chinese characteristics. No country or force can hold back China's development. We will do what is necessary to resolutely defend our sovereignty, security and development interests," Wang added.
In response to a joint statement released following the recent U.S.-Japan Security Consultative Committee ("2+2"), Wang said it contains manipulated and misleading narratives aimed at justifying military build-up by propagating and hyping up the so-called "nuclear threat from China."
"We have always kept our nuclear capabilities at the minimum level required by national security. For any country, as long as they do not use nuclear weapons against China, they have no reason to worry about being threatened by China's nuclear weapons. This is the most meaningful transparency a country can provide," said Wang.
In fact, said Wang, it is the negative developments in the U.S. and Japan regarding nuclear disarmament and non-proliferation that require the vigilance of the international community. The U.S. has been developing low-yield nuclear weapons, lowering the threshold for using nuclear weapons, while Japan has been sitting comfortably under the U.S. "nuclear umbrella" and even opposing and obstructing efforts to get the U.S. to relinquish its policy of first use of nuclear weapons, Wang added.
"We urge the U.S. and Japan to abandon the Cold-War mentality and bloc confrontation, fulfill their nuclear disarmament and non-proliferation obligations in good faith, and step up to their role in upholding regional and international peace and stability," said Wang.