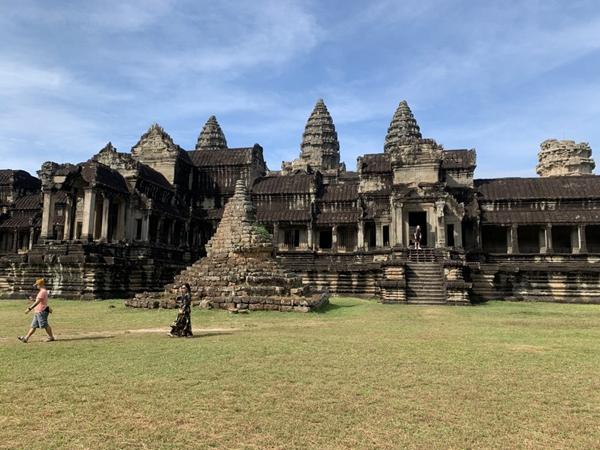 Tourists visit the Angkor Wat in the Angkor Archaeological Park in Siem Reap province, Cambodia on Dec 17, 2022. [Photo/Xinhua]
Cambodian Prime Minister Hun Sen will make an official visit to China from Thursday to Saturday, becoming the first foreign leader Beijing will host after the Chinese New Year holiday.
Calling Hun Sen an old friend and a good friend of the Chinese people, Foreign Ministry spokeswoman Mao Ning said at a daily news briefing on Monday that the three-day visit fully indicates the high level of China-Cambodia relations.
According to Mao, the Cambodian prime minister will meet with Chinese leaders for in-depth exchanges of views on bilateral relations and regional and international issues of common concern.
This year marks the 65th anniversary of the establishment of diplomatic ties between the two countries, as well as the Year of China-Cambodia Friendship.
Noting that China and Cambodia are traditionally friendly neighbors and staunch friends, Mao said that their bilateral friendship, jointly forged by older generations of Chinese and Cambodian leaders, has further strengthened over time. She said China considers the visit as an opportunity to promote the building of a China-Cambodia community with a shared future.
According to the Cambodian General Department of Customs and Excise, China continues to be Cambodia's largest trading partner, with total bilateral trade in 2022 reaching $11.686 billion, up 4.4 percent year-on-year.
After the free-trade agreement between the two countries took effect last year, over 90 percent of bilateral trade in goods has tariff-free status, China's Ministry of Commerce said.
Cambodian Minister of Commerce Pan Sorasak said recently that Cambodia planned to set up private business centers in five Chinese cities to make full use of the free-trade agreement and maximize exports of Cambodian products to China.
Monday's edition of Economic Daily quoted Chen Qisheng, general manager of China Certification and Inspection Group's Cambodian branch, as saying that China is now the largest market for Cambodian rice, with exports to China accounting for nearly half of the nation's rice production.
With the speedy recovery of China's economy this year and the implementation of the China-Cambodia free-trade agreement, bilateral trade is expected to increase rapidly, said Chen, adding that there are good prospects for exports of high-quality Cambodian products to China.