Chinese painter Qi Baishi (1863-1957) has become the third best selling artist at global art auctions, figures from the market data organization Art Price show. Last year Pablo Picasso and
Andy Warhol scooped more than $220 million in sales. Qi is next, with more than $70 million in sales.
This is the second time a Chinese artist has achieved a top-ranking appearance in Art Price figures since 2007, when Zhang Xiaogang, a middle-aged contemporary Chinese artist, hit 22nd place.
Zhang is a leading figure in the country's contemporary art scene, which has gained considerable exposure since the mid-1990s.
Qi, though a celebrity at home and a friend of former Chinese leaders Mao Zedong and Zhou Enlai, is not so well known on the international stage.
"While Western media are making a fuss about Qi's stunning performance in global auctions, local collectors have long deemed Qi's work a key indicator for the fundamental look of the art market," says Shao Jianwu, a Beijing-based art connoisseur and market analyst.
In Shao's view, the popularity of Qi's work reflects a growing interest in classical Chinese art.
Qi is arguably "the most celebrated artist in modern Chinese history for his highly personal and innovative style," according to art historian Lang Shaojun.
Trained as a craftsman of high-end furnishings, the self-taught artist "successfully bridges wen ren hua, or scholarly painting style, and folk art, and takes scholarly painting to a new level".
Qi first won market recognition in the 1920s, in Japan and on the mainland.
His work started to make an impression in the early 1990s art market and since then has been growing steadily in value, Shao says.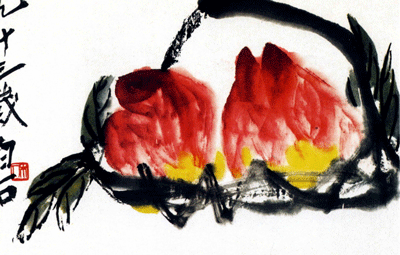 The painting of Qi Baishi 
"Qi was an extremely gifted and prolific artist and was still painting at 89," says Ma Baojie, dean of Liaoning Museum, the largest collector of Qi's work, with 400 paintings.
There are an estimated 30,000 works by Qi, including calligraphy, ink portraits, ink landscapes, ink stills and carved seals.
At least 3,000 of Qi's works have been in circulation in art markets at home and abroad since the early 1990s.
Ma says most of Qi's smaller and minor works cost 30,000-40,000 yuan ($4,392-5,856) at auctions and antique markets.
His larger and better-known works sell for much more.
Artron Art Market Monitoring Center statistics show the overall transaction volume of the local art market, last year, dropped 9.63 percent, while sales of calligraphy and ink painting gained 39.29 percent, reaching 3.4 billion yuan in transaction volume.
With sales of 198 million yuan, Qi topped the best-selling artists list in 2009, followed by Xu Beihong, Fu Baoshi and Li Keran.
At Beijing's Hanhai autumn auction last December, Qi's Bei Ye Cao Chong (Flowers and Insects) raked in 16.8 million yuan, a record price for Qi.
Shao predicts that works by Qi and other masters will "fetch higher prices in the coming years as there is a huge demand for classical Chinese art".
Kou Qin, China Guardian Auctions deputy general manager, believes classic and traditional art "has long been undervalued and is just re-gaining ground".
Kou says that classical and traditional art, rather than contemporary art, will continue to be the biggest seller in the Chinese art market for the foreseeable future.