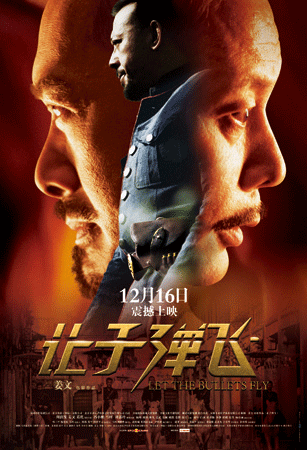 Westerns used to be a characteristically American form, but now Asia is going home on the range. Jiang Wen's Let the Bullets Fly, set in Southwest China in the 1900s, premiers nationwide Thursday, following on from hits like Korean director Kim Ji-Woon's The Good, the Bad, and the Weird (2008).
Let the Bullets Fly has already received great feedback from critics and is expected to do bonzo box office, a rarity for films released in the depths of winter.
Known for his art house films such as The Sun Also Rises (2007), and In the Heat of the Sun (1994), this is Jiang's first attempt to make a commercial blockbuster. His previous, more sophisticated works sometimes left audiences baffled, but Let the Bullets Fly "is simply about how a thief, a gangster and a con-artist meeting and fighting with each other," said Jiang at last week's preview.
Art house switch
Jiang's previous films won critical acclaim, but did poorly at the box office. The Sun Also Rises (2007) made a mere 30 million yuan (US$4 million). Jiang said investors for his films are not necessarily profits-driven. "When I made The Sun Also Rises, although it is not profitable, Wang Wei, one of the investors told me he liked the film and the box-office didn't matter, it is worthwhile as it was such a good film. Yang Shoucheng, another investor, encouraged me and funded me again, regardless of the box office," said Jiang.
"There's not necessarily a fixed boundary between art house and commercial films. I only want to make a film I like, and it is just not wise to worry about money and profits all the time," commented Jiang.
"Having seen the film, I would say it is a good film with a good story and good acting. In a cinema world full of soulless blockbusters, Jiang's new film makes me have faith in Chinese films," film critics Chen Lei told the Global Times after the preview last week.
"Jiang is one of the few really talented directors in the country. He excels at making art house movies, although the public doesn't fully appreciate them. With his talent and vision, he can also succeed in commercial films," Chen added.