The advancement of Colombian writer Gabriel Garcia Marquez, the author of the novel "One Hundred Years of Solitude," to the top of the earnings list for foreign authors in the Chinese mainland market, has given hope that Chinese audiences may be shifting away from the soulless commercialization that has dominated the mainland literary market in recent years.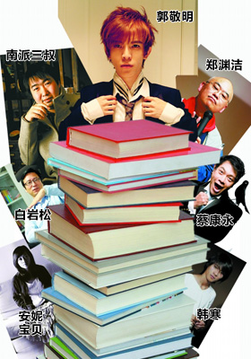 The 2011 Rich List of Chinese Writers [China Newsweek]
Marquez recently knocked author J.K Rowling, of Harry Potter fame, off the top spot on the earnings list for foreign writers, according to the 2011 Rich List of Chinese Writers, which primarily ranks Chinese authors.
The recent rankings may indicate a shift that adult Chinese readers are beginning to yearn for more in-depth explorations of humanity and soul instead of superficial entertainment. "One Hundred Years of Solitude," a novel created 44 years ago, still charms with its eternal values. In comparison, most contemporary Chinese literary works simply charm readers with elegant words while failing to reach one's inner soul and resonate with readers' personal values.
Despite a huge market and booming profits, some say the cultural value of literature has been ignored, which has resulted in the absence of any Chinese "literary giant" on the rich writers list.
Liu Binjie, president of China's General Administration of Press and Publication, warned of a lack of creativity among domestically published literary works. Liu said that about 90 percent of literary works in China are "imitation and copycat" products. The root cause of the creativity gap, Liu, said, is an absence of cultural values which prevails throughout the country. Most books aimed at adult readers, Liu said, show a lack of values and spiritual enlightenment.
Demographics may explain the market's shallowness -- Young people remain the main demographic for the Chinese book market; conversely, the market for mature readers is relatively narrow.
Empty, profit-oriented works from Chinese authors have indeed contributed to the literary superficiality that exists in the mainland today. Even with relentless promotion of their works, authors who lack strong personal convictions can only write bestsellers; they can never be literary giants. If culture is downgraded to merely a consumer good, it is doomed to vanish through time.
As an intellectual product, literature provides consumers with entertainment while simultaneously communicating the author's values. Ideally, writers should be the most sensitive to the subtle changes in public opinion, public values and the cultural climate. All too often, that sensitivity is lacking among Chinese mainland writers.
Touching on humanity's struggles in the pursuit of liberty, "One Hundred Years of Solitude" gives a kind of spiritual nutrition to Chinese readers. What lies behind the popularity of the old masterpiece in China is a gradual shift in the mass cultural psyche. More and more people, it seems, are beginning to strive for freedom in the decisions they make with their own lives.
This year's Rich List of Chinese Writers rankings shows that Chinese readers are starting to embrace works which not only entertain them, but deeply resonate with their core values.
This article was first published at China Newsweek and translated by Li Xiao.
Opinion articles reflect the views of their authors, not necessarily those of China.org.cn.