Li Qun, a master of woodcuts and Chinese paintings, died on Feb. 10, 2012, at Chaoyang Hospital in Beijing to lung failure. He was 100.
Li Qun [File Photo]
Li started his career in the early 1930s and came to prominence with his woodcut portrait of the famous 20th-century Chinese writer Lu Xun. The work has since become Lu's standard portrait worldwide.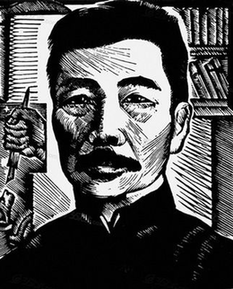 Li Qun's woodcut portrait of the famous 20th-century Chinese writer Lu Xun. [File Photo]
A memorial service was held Thursday at Visitation Room of Chaoyang Hospital.
"We are saddened by the loss of a pillar of the Chinese artistic circle," said the China National Academy of Painting in a statement. "Li Qun's artistic achievement and personality will go down in history."
Li Qun, whose original name was Hao Lichun, was born in Linshi County, Shanxi Province. In 1931, Li entered the Hangzhou National Art School. Inspired by the iconic writer Lu Xun, Li bought carving tools and began to make woodcuts, with determination of depicting the sufferings of the masses and exposing the dark side of the society through his art. He organized the Woodcut Research Association there in 1933.
In 1940, he arrived in Yan'an, where he took up teaching at the Lu Xun Art Academy. Then in 1942, he participated in the Talks at the Yan'an Conference on Literature and Art. In July of 1949, Li attended the first national congress of writers and artists, and was elected as a committee member of the China Federation of Literary and Art Circles and managing director of the National Art Worker's Association of China.
Drink, woodcut, 1940-1943[By Li Qun/File Photo]
In Taiyuan, he was appointed director of the Shanxi Federation of Literary and Art Circles and as editor-in-chief of local magazine Pictorial of Shanxi. In 1952, he moved to Beijing, where he worked in the editorial office of the People's Fine Arts Publishing House. In the 1960s, he journeyed through China, making woodcuts for what he had saw during his travels.
From 1977, Li was president of the Shanxi Province picture studio, committee member of the China Federation of Literary and Art Circles, managing director of the China Artists Association, and vice-president of China Woodcut Association.
Daughter Hao Li (Alicia Tseng), now living in Australia, said: "My father has been the glue of our large family. I will miss him dearly. All his grand children abroad including me have always been in awe of him.
"When my father was still alive, he always teaches us to have good will toward men, to be scrupulous about every detail and to be honest and faithful. He used to say 'Success belongs to the persevering,'" Hao recalled.
Dawn, colored woodcut,1957 [By Li Qun/File Photo]
Li was the last living participant in the Talks at the Yan'an Conference on Literature and Art in 1942, where Chairman Mao Zedong set the guidelines for art in the future People's Republic of China. Li's death marks an end of an era in China's woodcut history.
As a revolutionary artist, Li threw himself into the revolutionary cause in his early life. The social strife in old China, the fires and fogs of war, the lives of soldiers and peasants in Yan'an and the development and construction of new China all became subjects carved on Li Qun's wood blocks.
Since the founding of the People's Republic of China, Li managed to keep up his works with the times. He combined his revolutionary passion with elegance and popular styles. Renowned Chinese poet Ai Qing praised Li's woodcuts as "lyric poetry engraved on wood block."
Li took on the aim of serving the masses as the guideline in his art. He was awarded "Artist of the People" by Shanxi Provincial Party Committee and Provincial Government in 1992. Whenever he finished an art piece, he would always call up his entire family and ask them for advice. He would always put himself out to make changes until his message was clear to everyone in the audience.
Grape in Mountain, colored woodcut print, [By Li Qun/File Photo]
The woodcut master attached great importance to the style and features of folk arts and has established a special tradition on the folk Spring Festival pictures, wall paintings, paper-cuts and fabrics. The folk art became the most important nourishment for his artistic creation. His works unfolded a vast panorama of China's country life.
Li found further acclaim late in life through his writing. His published art essays and novels including "Woodcut of Li Qun," "Selected Prints Works of Li Qun," "Collection of Thesis of Fine Arts of Li Qun" and "Woodcut Lecture."
During his final years, Li gave generously to public museums. His woodcuts, Chinese paintings and sketches are in the collections of many galleries around the world including the Chinese Art Gallery, China National Museum of Arts and Lu Xun Memorial Hall. He donated more than 60 woodcuts representative of his works to the China Academy of Art (previous known as Hangzhou National Art School). Over a hundred of his later works were donated to Li Qun Art Gallery in Linshi County in Shanxi Province.
As he himself concluded, his long and eventful life was "a process to make clear the direction of art and the law in realistic creation; a shift in style from European to traditional Chinese folk art; and an upgrade from mechanical imitation to self-motivated creation."