Hong Kong superstar Leon Lai and his 32-year-old wife Gaile Lok released a written statement on Oct. 3 through their shared management Paciwood Music & Entertainment Ltd, officially announcing that they are getting a divorce.
"Although they have experienced many beautiful moments together and still care for each other, they have serious differences in their philosophies of life," said Paciwood Music and Entertainment Ltd in its statement. "So after careful consideration, they have decided to part ways."
The statement also pleaded, "Hopefully, the public can give them each some personal space during this difficult time, so they can embrace their new lives as soon as possible, and continue to focus on their work. On behalf of Ms. Lok and Mr. Lai, we express our heartfelt thanks to the media for their support and love."
Gaile's manager Joe Chan expressed he felt its such a pity that the two separated, he said: "Rumors going on and on is meaningless now. Although this isn't a happy incident, it is their privacy. I don't want caring friends of Leon Lai and Gaile Lok to have too much speculation. We got their consent before releasing the statement." Chan said and added that as their friend and manager, he hates to see them separate, but respects their decision.
He also does not believe there was a third party in the relationship, "What the eye sees may not be the truth. Also I didn't see or hear it. I don't think there is a third party."
After the statement, Gaile Lok responded to the news on Oct. via text message to Hong Kong media: "All I can say is...We already separated a long time ago...It was very hard to have to lie to everyone and keep secret from friends and outside people. I'm apologize to media and public for that...I wish Leon happiness and he will always be family to me... I will remain with Paciwood and Joe as my manager."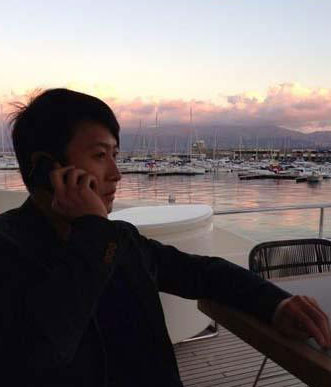 45-year-old Leon Lai also sent message to media, saying, "Everyone will set goals for their life and will keep on finding their own life style. When realizing that the changes of the world are really just routines, I will just continue to be me. This is my only answer to all the enquiries from media."
In 2005, Leon Lai fell passionately in love with model Gaile Lok, despite his reserved personality and her lively disposition. In 2008, the pair got secretly got married in Las Vegas, in which their marriage was exposed by the Hong Kong media one year later. Since July 2011, divorce rumors were rampant. In April 2012, Leon reportedly attempted to salvage their four-year marriage by bestowing HK$100 million in gifts to Gaile while she was rumored to have fallen for another man.