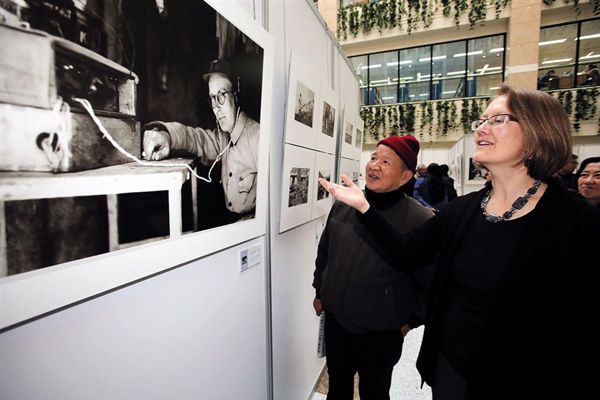 Susan Lawrence, granddaughter of Briton Michael Lindsay, shows visitors a picture of her grandfather yesterday during a photo show at Shanghai Library. [ShanghaiDaiy.com]
The granddaughter of a British academic who photographed the War of Resistance Against Japanese Aggression (1937-45) yesterday opened an exhibition of her grandfather's work at the Shanghai Library.
More than 200 black and white prints are on display at the free exhibition that runs through December 18 at the Huaihai Road library.
The pictures were mostly taken in the areas controlled by the Communist Party of China in that period and include many pictures of Chairman Mao Zedong and leading Red Army generals.
Michael Lindsay, an upper-class British economist, came to Beijing to teach economics at Peking University
Angered by atrocities committed by Japanese invaders, he joined Communist Party troops, helping install telegraph machines and transporting materials to the frontline.
An amateur photographer, he recorded the war and everyday lives in the Communist Party controlled region in current Hebei and Shanxi provinces.
"On behalf of my family, I'd like to thank everyone who has supported us with this exhibition of my grandpa's pictures," Susan Lawrence, Lindsay's granddaughter, said at the opening ceremony.
She said her grandfather told her he was proud to have fought for the Chinese people against Japanese fascists.
Many pictures are of Chinese soldiers, while others feature Lindsay's wife Li Xiaoli.
The couple had two children and in 1945 returned to Britain.
The exhibition is organized by the World's Anti-Fascism War Research Center and Jiao Tong University.