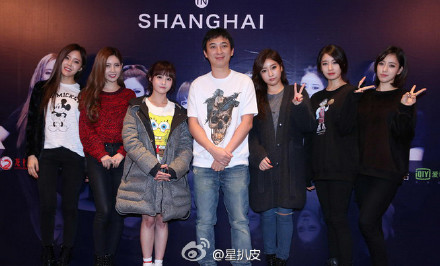 A photo of Wang Sicong and South Korean girl group -- T-ara. Wang Sicong has signed the group and also established an agent company. [Photo: weibo.com]
Wang Sicong, son of Dalian Wanda Group chairman -- Wang Jianlin, has signed South Korea girl group -- T-ara.
He has also established an agent company called "Xiang Jiao Ji Hua" in Chinese, which translates as "Banana Plan".
Wang Sicong has confirmed he is stepping into the showbiz circle and will hold a press conference in the coming days on the news.
He says he plans to sign more bands and stars.
As the only son of the head of China's largest real estate developer, Wang has made headlines with his flamboyant microblogging, often featuring sarcasm and criticism of Chinese celebrities.
This January, Wang Sicong invited many celebrities to his 27th birthday party.
The Korean girl band, T-ara, staged a private concert for him at the party.