As Stephen Chow's "Mermaid" becomes the top grossing Chinese film ever, insiders have revealed how they made it happen.
Since its release, the film has nearly smashed all the records known to Chinese audiences.
Chow is still on a multi-city tour to promote the blockbuster, with tens of thousands of fans coming to see him everywhere. The enthusiastic and crazy scenes repeatedly seen might make bystanders think a rock star was in town to meet adoring fans.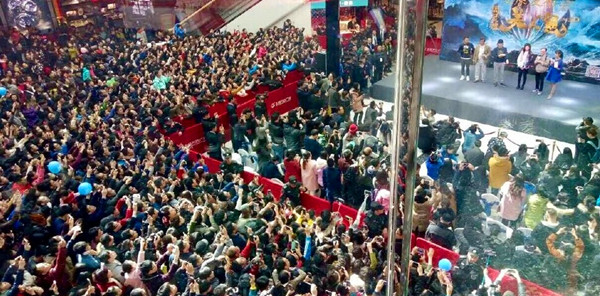 Stephen Chow and his "Mermaid" crew meet fans in Taiyuan, Shanxi Province, Feb. 17, 2016. [Photo courtesy of official Weibo account of "Mermaid" / China.org.cn]
Nine companies, including China Film Group, Hehe Pictures and Enlight Media, invested in the production, while four companies, Chow's Star Overseas, Hehe Pictures, Maxtimes Culture, and Union Pictures collaborated in the marketing and promotion.
Yang Wei, Chairwoman of Hehe Pictures, revealed in an interview with Sina.com.cn that Chow and his Star Overseas took general command of the marketing, Maxtimes Culture provided the marketing plan and executed it with Chow's approval, and Union Pictures is responsible for distribution, Hehe Pictures covered the cost and coordinated the cooperation among various resources and channels, as well as developing merchandise. Yang said they worked very closely for the film and were praised by Chow himself.
As for the rumored deal of 1.8 billion (US$276.12 million) - 2 billion yuan (US$306.8 million) box office guarantee, Yang admitted there was such deal but she would not reveal the exact number since the details were covered by a secrecy clause in the agreement.
The deal would guarantee that Chow and the other producers will receive a huge chunk of advance income before box office grosses actually hit two billion yuan in China. If the gross eventually surpasses that figure, the distributors will take priority in collecting dividends from this extra income.
The box office guarantee model has existed for more than 10 years. Chow's last film "Journey to the West: Conquering the Demons" also used this kind of approach. The model offers not only risk control, securing the production party's interests, but also gives distributors priority in financing blockbusters-to-be, as well as showing their confidence in the films' future box office performance.
"I can confirm Hehe Pictures is the principal party of the deal and paid all the box office guarantees," Yang said.
Hehe Pictures has supported many important film projects in a very low key way; however, according to 21st Century Business Herald, Minmetals International Trust Co. Ltd. is the actually company behind Hehe Pictures, holding 90 percent of its shares.
SMI Culture Group Holdings and Enlight Media also participated in the box office guarantee deal but they had to buy shares in a box office guarantee entity set up by Hehe Pictures. "Mermaid" distribution indicates trust funds are becoming more active in the film business.
An insider told China Business News that executives of SMI Culture Group and other distributors held lots of closed door meetings to use a big data model to study and predict the box office performance of "Mermaid" by including such elements as the number of theaters showing the film, the brand appeal power of its creative team, the screening season, evidence of large fan groups and screening arrangements.
"We concluded that 'Mermaid' could at least gross 2.65 billion yuan (US$406.51 million)," the insider said.
With the box office guarantee deal in place establishing high expectations, Union Pictures explored various film distributors as resources to work together to materialize the box office success, including roadshow, promotional strategy, showing arrangements, collaboration with e-commerce giants and commercials.
It also agreed with Maxtimes Culture that they would convince Chow to adopt "hunger marketing" this time to maintain high secrecy and mystery by not letting anyone, including theater managers and film critics, see the film in advance at any premieres until it actually opened in theaters, said Cai Yuan, President of Union Pictures.
Many of Chow's previous comedies were never screened on the mainland, but a generation of fans grew up with his films from VHS video tapes, VCDs and DVDs, even pirated ones. There were popular slogans and tags on social networks for years about "paying back a ticket we owe for Stephen Chow" when Chow's films had theatrical releases every time.
But Yue Yang, President of Maxtimes Culture, said they would play some cards betting on the fond memories of Chow's previous films and his own brand, but they would never make nostalgia the major part of their marketing.
"In this era, no one owes anyone a ticket, the only standard is whether the film is good enough, " Yue said.
"Mermaid", though, didn't have the best word-of-mouth and critical praise experienced by Chow's other films.
However, collaborators all praised him as being very easy to work with this time. "It was unprecedented that Chow cooperated with us so deeply and so happily," Yue said, "He knew meeting and greeting audiences is a way to give his fans a feedback for their support, so he decided to go on the multi-city roadshow".
Hou Tao, vice president of EntGroup, China's leading entertainment research service provider, said the success of "Mermaid" is due to three major reasons: Chow's brand and good support team, the Spring Festival season that has become a booming focus for the Chinese film market, and lack of competition.
"Besides, the film length of 'Mermaid' is only 90 minutes long, allowing more showings in a day," he added.
But the "Mermaid" miracle may be just the beginning of China's power. It is already the second largest film market in the world and has more than 6,000 theaters and 31,600 screens. If it maintains the growth rate, it will eventually surpass the United States to become the biggest film market in the world, industry insiders said. At that time, there would be more films creating much higher box office achievements.