The prominent auction houses Sotheby's, Christie's and Bonhams may have all hosted sales during Asian Art in London - an annual 10-day extravaganza ended on Saturday in the British capital - but there is a small auction house that's set to make a big splash among the heavyweights.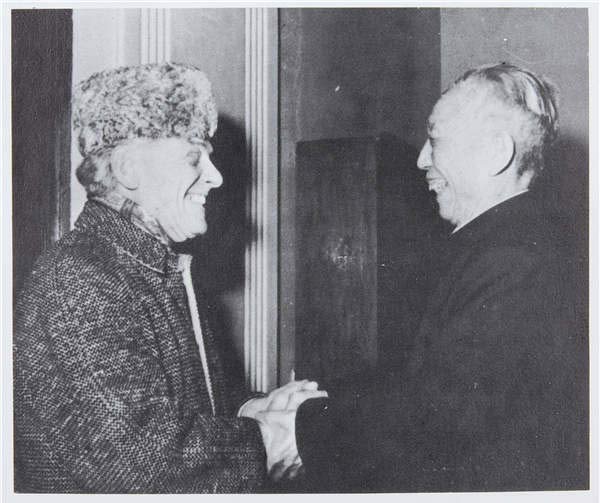 Bernard Buckman visits China as a personal guest of Vice-Premier Wang Zhen in 1979. [Photo / China Daily]
On Monday, Chiswick Auctions will host a sale featuring the entire collection of Bernard Buckman, a key figure in Sino-British trade relations during the second half of the 20th century.
Buckman traveled to China multiple times - most notably in 1979 as a personal guest of Vice-Premier Wang Zhen - and the Englishman's 120-strong collection reflects someone who was both an enterprising businessman and keen patron of the arts. It also offers a window into China during a time when it was just opening up to the world.
"Buckman went to China every year from 1953 and more frequently after around 1962," says Lazarus Halstead, Chiswick Auction's head of Asian art.
"He was communicating with top government officials. No (other) Westerner had that level of access."
Buckman's collection runs the gamut from snuff bottles, jades and scholarly items to paintings and furniture, with price estimates starting from around $120 and going to $36,000.
Archival materials and books from Buckman's personal library further paint a rich picture of a man and his passion for Chinese culture.
"He had a really enlightened view of China's cultural achievements," says Halstead.
And that was at a time when Westerners thought "the nation was probably slightly backward", he adds.
The headline lot on sale is the 1944 hanging scroll ink painting, Garden Balsam and Butterflies, by Qi Baishi, who is considered "Picasso of Chinese art" and a forefather of modern Chinese painting.
The vibrant work was most likely a diplomatic gift, says Halstead, and is offered at a "conservative" estimate of $24,000 to $36,000.
Another noteworthy piece is a delightful Ming Dynasty (1368-1644) carving of Zhou Tanzi, a figure in Chinese folklore that represents filial piety. Zhou disguised himself as a deer to obtain milk for his aging parents - a story that's depicted in this beautifully carved dark jade creation that has an almost woodlike patina.
Other highlights include a range of wonderful rock-crystal scholar's objects - each complete with individuals stands - including an unusual Qing Dynasty (1644-1911) wrist rest.