The crime epic "The Wasted Times" had its grand premiere in Beijing on Tuesday, where the leading stars, Ge You and Zhang Ziyi, said they should have had more intimacy in the film.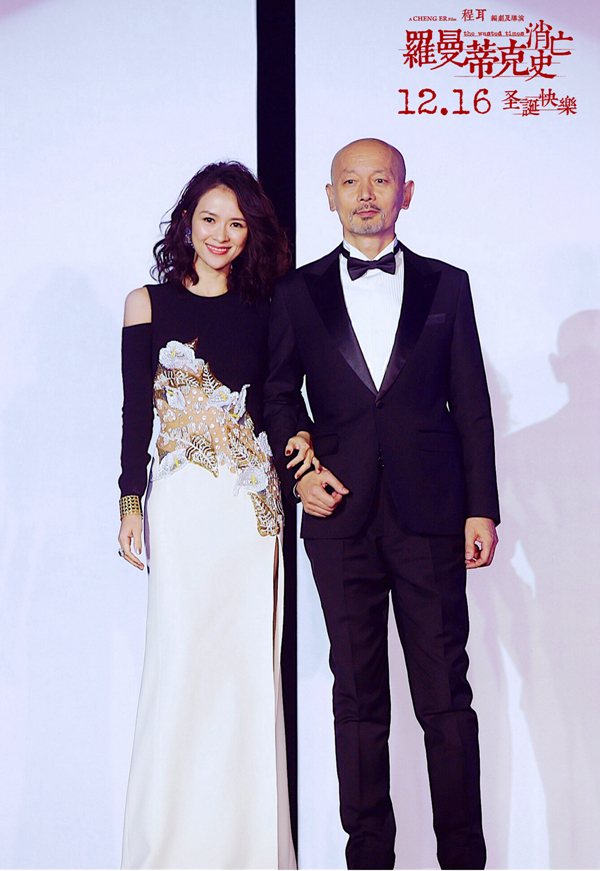 Zhang Ziyi and Ge You appear on stage at the premiere of "The Wasted Times" held at China National Film Museum in Beijing, Dec. 13, 2016. [Photo/ China.org.cn]
The event was held at the China National Film Museum with director Cheng Er, producer Wang Zhonglei and star-studded cast and guests.
A "The Wasted Times" film copy was inducted in the museum archive before its premiere, indicating that the museum's committee recognized the film's quality.
Ge You and Zhang Ziyi, two big names that have been absent for two years from China's film landscape, appeared on the stage together. This is their first reunion after their collaboration on Feng Xiaogang's "The Banquet" (2006). Ge plays a mafia leader while Zhang plays a social butterfly.
But Ge said their interaction and relationship in the film is not as intoxicating as theirs was in "The Banquet."
The film was polished and in production for three years and features an all-star cast, including Zhang Ziyi, Ge You, Tadanobu Asano, Gillian Chung, Yuan Quan, Yan Ni, Han Geng, Wallace Chung, Huo Siyan and more.
A China.org.cn film critic viewed it in an advanced screening and felt that it has the strong style of Cheng Er, with multiple characters and multiple storylines that portray mafia fights, conspiracies, romance, sex and murder during the dark times of old Shanghai when the Japanese army invaded the city. The multiple times and settings of the story were oddly and not orderly put together.
"It will make you use your brain to think about the plot," Ge said.
"This is a good film, you have to see it," Zhang said.
Most of its dialogue is in Shanghai dialect, which is another strangely favorable highlight. Zhang said she, Ge, Yan Ni and other non-Shanghai natives practiced the Shanghai dialect very hard for the film.
The film will debut in Chinese theaters nationwide on Dec. 16, challenging the release of another all-star blockbuster, "The Great Wall" from Zhang Yimou.