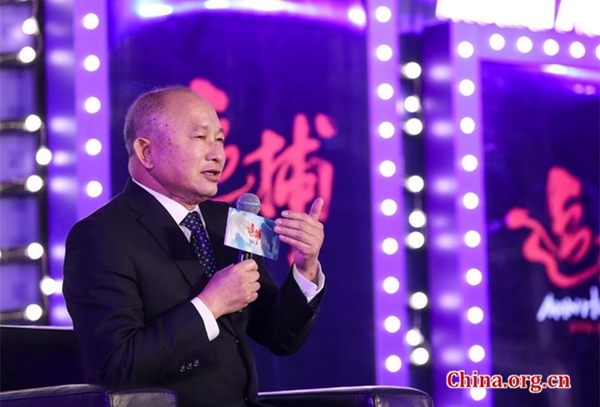 Hong Kong director John Woo speaks at a press conference to promote his new film "Manhunt" in Beijing, Jan. 15, 2017. [Photo/China.org.cn]
Hong Kong director John Woo's remake of Japanese action thriller "Manhunt" will debut in the 2018 Spring Festival in hope of reviving the director's career after his disastrous flop of "The Crossing."
It is unusual for a Chinese film to set the release date a whole year ahead. But the director announced on Sunday that the Spring Festival release date of the film to be Feb. 16, 2018.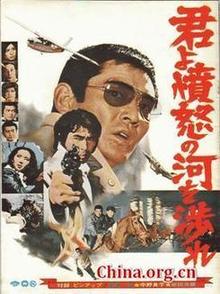 A Japanese poster of Junya Sato's "Manhunt," originally released in 1976 in Japan, imported to China in 1978. [Photo/ China.org.cn]
"Manhunt," based on a novel by Japanese writer Juko Nishimura, tells the story of pros-ecutor who is framed for robbery and rape and sets out on a one-man mission to clear his name. The original film stars legendary Japanese actor Ken Takakura, who passed away in 2014.
Media Asia acquired the rights from the novel. Peter Lam, chairman of Media Asia, imme-diately called Woo after he found out that Woo was a huge fan of the late Ken Takakura in the wake of the actor's death and convinced Woo to take on the project.
"I met and talked with Ken Takakura after I did 'A Better Tomorrow' in 1986. We appreciated each other's films," Woo said at the press conference held in Beijing yesterday. "However, we never had the chance to work together before his death. One reason why I remade 'Manhunt,' is to pay a tribute to him. His role in the film, Morioka, inspired Chinese people with his courage and spirit."
This new film will also hope to reboot Woo's career after his two-part all-star cast romantic war epic "The Crossing" suffered epic losses in the Chinese market, grossing only about 260 million yuan in total against a budget of more than 400 million yuan in 2015.
The new version will star Chinese actor Zhang Hanyu, actresses Qi Wei, Wu Feixia, and Japanese actor Masaharu Fukuyama. The film has just started post-production.
Zhang Hanyu, who will play Ken Takakura's classic role of Morioka, said "Manhunt" had great influence on his career, and he had watched the original Japanese film more than 30 times. "I'm so lucky to act in the new version after 40 years since I was touched by the original version."
Chinese actor Zhang Hanyu speaks at a press conference to promote the new film "Man-hunt" directed by John Woo in Beijing, Jan. 15, 2017. [Photo/China.org.cn]
"Manhunt" (also known as "You Must Cross the River of Wrath") directed by Junya Sato was unique in middle-age and elder Chinese people's memories. In 1978, the original Japanese film was the first foreign film imported in China since China opened up to the outside the world. The film then had 800 million admissions across the nation. Accounting for inflation the film would have grossed more than 10 billion yuan (US$1.44 billion) in today's China.
But it had a greater cultural and historic impact on China, as Chinese people opened their eyes to foreign films and arts with many Chinese filmmakers inspired and educated by the film. A generation of Chinese women saw Ken Takakura as an idol and dream lover. The spokesman of China's Ministry of Foreign Affairs, Hong Lei, praised that Ken Takakura made significant contributions to the cultural exchange between China and Ja-pan.