Renowned Chinese director Feng Xiaogang and Danish film legend Bille August sat down on Friday in Beijing to talk about "integration of commerciality and art in films at home and abroad," during which Feng said he would not be bound by the commercial urge.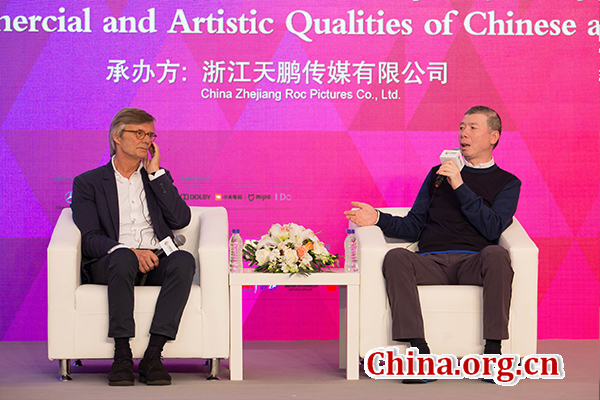 Chinese director Feng Xiaogang and Danish film legend Bille August exchange views on "integration of commerciality and art in films" at the "Masters' Dialogue" held as a part of the 7th Beijing International Film Festival held in Beijing, April 21, 2017. [Photo / China.org.cn] 
Feng said he had eventually chosen to go against the trend of giving priority to making money-making commercial films, preferring to have the freedom to do what he wants.
"Thanks to the resources and mass recognition I've accumulated when I was making commercial films in the past few years, I think I cannot waste these resources," he said, "I think I am so lucky that I don't need to care about box office revenue now. I can shoot films as I want. If I had only cared about box office revenue, I wouldn't have chosen to shoot '1942' or 'I Am Not Madame Bovary'."
During the San Sebastián International Film Festival, the film "I Am Not Madame Bovary" won the Golden Shell for Best Feature Film. It was Bille August who presented the award to Feng. During the "Masters' Dialogue" held as a part of the 7th Beijing International Film Festival, the two were reunited to share their experiences.
Feng Xiaogang is a relatively successful commercial film director in China and his New Year season blockbusters, such as "The Dream Factory," "Sorry Baby," "Be There Or Be Square," "Big Shot's Funeral" and "Cell Phone," all achieved a high reputation and good box office returns.
Bille August, president of the Jury of the Tiantan Awards for the Beijing International Film Festival this year, won the Golden Palm at the Cannes Film Festival twice with his films "Pelle the Conqueror" and "The Best Intentions" respectively.
"Making a film is like telling a story. At least I don't pursue commercial success to meet certain trends," August said. In his view, films are commercial products; yet, fundamentally, they are used to tell stories. "Commerce and art don't contradict each other. We need to admit that film making is a very expensive industry and directors always have to deal with money. However, I can't just make commercial films. I have to put some faith in the films I make. I want the audience to perceive the way I tell stories."
In China today, box office revenue is an important measurement of a film's success. In this regard, Feng Xiaogang said some of the Chinese directors were being "held to ransom" by box office revenue. "It's not a bad idea to bring sensory stimulation to the audience, but we are worried about the reality that those crudely-made and brainless films achieve high box office revenues. Commercial films should also be commercial and of good quality."
Feng Xiaogang recalled his experience of making New Year comedies a few years ago when he felt he was also trapped by the box office numbers.
"I don't have to think much about that now. I am just making films as I intend. I was not used to this at the beginning. My non-commercial films didn't gross as much as those made by Wang Baoqiang. You know, Wang Baoqiang was an actor in one of my films! Even if things are like this, I don't want to join the box office 'arms race' anymore," he said.
The dialogue focused on the play between commerce and art in film, but the two directors started to talk about retirement unwittingly.
"I'm 60 years old. Can I shoot films for another 10 years? There's not much time left for me." Feng Xiaogang sighed with emotion and then reiterated, "I'm going to devote my limited time to shooting films as I want. I won't spend time thinking about how to get the money out of the audience's pockets."
The 69-year-old August said work makes him happy. "Creating stories is like talking to the audience intimately every day, So, I don't want to give up what I'm doing. I met a Portuguese director who was almost 80 years old, but had no intention to retire."
August's new film "The Chinese Widow," jointly produced by the director and a Chinese film company, is expected to be released later this year. The film stars Liu Yifei and Emile Hirsch. It is reported that Bille August even went to the Chinese countryside and experienced life there in the preparation for the filming.