Oxford University history professor Peter Frankopan says historians should be brave: "Otherwise, there is no point of writing history."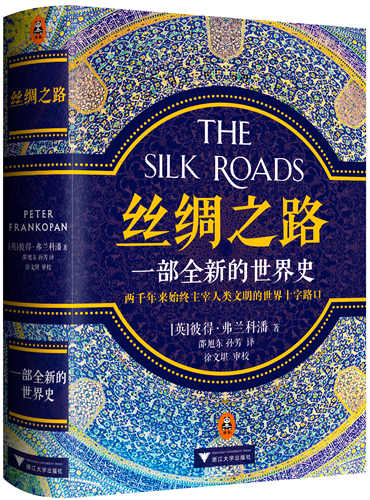 The Chinese translation of Peter Frankopan's The Silk Roads: A New History of the World. [Photo provided to China Daily] 
In his latest book, The Silk Roads: A New History of the World, he has tried to narrate the history of the world from a different perspective-from what "kept being told of the importance of the Mediterranean as a cradle of civilization, when it seemed so obvious that this was not where civilization had really been forged", as he writes in the preface.
"The real crucible, the 'Mediterranean' in its literal meaning-the center of the world-was not a sea separating Europe and North Africa, but right in the heart of Asia."
At the end of the 672-page book, Frankopan concludes "we are seeing the signs of the world's center of gravity shifting-back to where it lay for millennia".
After elaborating the historical development of the Silk Roads since its birth more than 2,000 years ago from different perspectives, such as faiths, trades, wars and diseases, Frankopan writes: "It is easy to feel confused and disturbed by dislocation and violence in the Islamic world, by religious fundamentalism, by clashes between Russia and its neighbors or by China's struggle with extremism in its western provinces. What we are witnessing, however, are the birthing pains of a region that once dominated the intellectual, cultural and economic landscape and which is now re-emerging."
Questioned by many critics on being "overly optimistic" about the conclusion of his book, Frankopan says in an interview with China Daily: "I'm not being optimistic. I am saying that there is always part of the world that drives and is most affected by changes, and it has always been like that."