Fifteen years after her public debut, "Tomb Raider" heroine Lara Croft is back. The creators of the reboot told China.org.cn in a recent interview that they really wanted to create something new with their adaptation of the classic game.
A still from the new "Tomb Raider" shows Lara Croft, played by Alicia Vikander, fighting against an evil mercenary in the tomb of Himiko, the mythical Queen of Yamatai. [Photo courtesy of Warner Bros. Pictures]
Re-imagining a favorite video game heroine
The Swedish actress Alicia Vikander, born in October 1988, won an Oscar for her supporting role in the 2015 film "The Danish Girl" and starred in several big productions including "Ex Machina," "Jason Bourne" and "The Man from U.N.C.L.E." She has grown into a rising Hollywood star.
Yet when she received a phone call from her agent asking whether she would consider playing Lara Croft, she was surprised. "Didn't they make those films already?" she asked. She played the Tomb Raider game during her teenage years and hadn't touched it for about 15 years. Then she learned there would be a new film version of the game, a different take from the previous versions.
It is true that the previous representation of "Tomb Raider" was deeply rooted in the image of one star—Angelina Jolie, who played Lara Croft twice in 2001 and 2003. That version of the character prototype was based on video game series created by the British gaming company Core Design under Eidos Interactive between 1996 and 2007. This was a game about a female Indiana Jones and was warmly received by gamers, selling more than 63 million copies worldwide.
In order to bank on existing enthusiasm for the game, Paramount Pictures cast Jolie to shoot live-action movies and hoped to bank a profit from it. And they succeeded, initially—the first installment, "Lara Croft: Tomb Raider," grossed US$275 million worldwide, becoming the most successful video game-adaptation film. However, the sequel, " Lara Croft: Tomb Raider – The Cradle of Life," apparently flopped, making only US$156 million at box offices worldwide.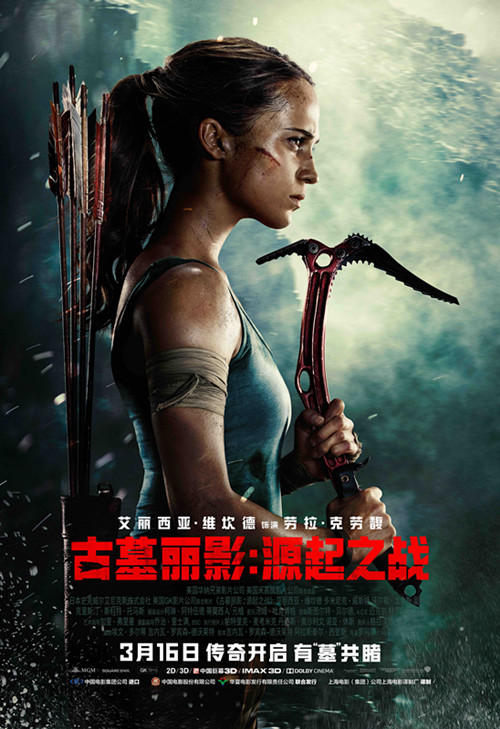 A Chinese poster for the new "Tomb Raider." [Photo/ China.org.cn]
The two live-action films, like many other game adaptations, were also panned by film critics. On the America film review aggregate website RottenTomato.com, the first installment has a 20% approval rating with 29 out of 155 critics giving it a positive review, while the second one was slightly better, with a 24% approval rating from critics. Paramount attributed the box office flop to the poor performance of the game "Tomb Raider: The Angel of Darkness" and the franchise subsequently sat untouched until 2011.
Once Graham King's GK Films acquired the game adaptation rights to the series, Warner Bros. Pictures and Norwegian film director Roar Uthaug soon got on board the concept of a reboot. After considering their casting list of potential actresses for the starring role, the team agreed Alicia Vikander was their top choice.