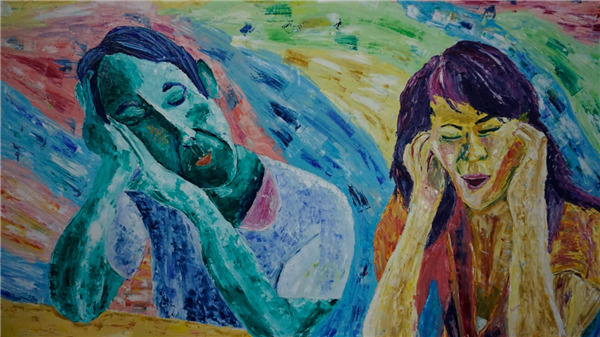 Just four years ago, Shen Minghui never thought that he would become an artist, let alone hold a solo oil-painting exhibition.
The 29-year-old who lives with dwarfism earned a living by shining shoes after graduating from junior middle school.
"There seemed to be no hope at all," he says, "until December 2015, when I picked up a paintbrush and began to learn oil painting at Antai Art Center."
Launched in October 2015 as the biggest art center in Pingnan county in East China's Fujian province, the government-backed project aims to provide engagement with poor farmers and rural residents with disabilities living nearby.
The three-floor center comprises 50 studios, with a 1,000-square-meter gallery, an exhibition hall and a 2,000-sq-m training workshop on different floors.
Located in Shuangxi, a town listed among "China's famous historical and cultural towns and villages", the project has also transformed the sleepy town into a creative hub.
Learning from Lin Zhenglu, a self-taught artist who founded and teaches painting at the art center, Shen showed talent and produced satisfactory works just three months later.
He began to paint in a 30-sq-m studio provided by the center and received a stipend of about 5,000 yuan ($727) every month.
In 2017, he held his first solo oil-painting exhibition in Tangkou town, Nanping, with the help of an art institution.