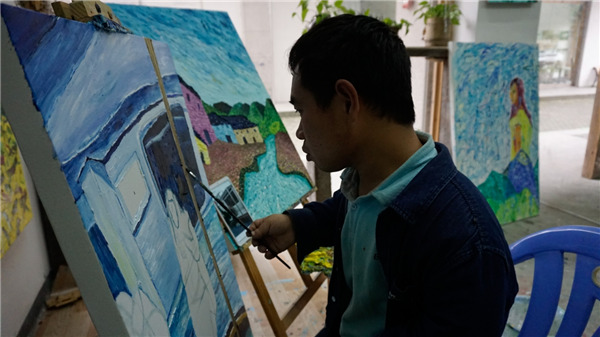 "Although I am not wealthy, I have kept most of my paintings and refuse to sell them," he says. "Painting can bring me benefits, but my dignity as a creator is more important."
He says that he hopes to hold a solo oil-painting exhibition on a bigger stage in the near future, showing visitors his dream world.
Lin, who manages the center, also helps to sell the amateurs' work online.
The 48-year-old never allows students to copy famous paintings or photographs but, rather, gives them real objects to observe carefully.
Yang Fawang, a young man with both physical and mental disabilities, has become a painter of some renown with the help of the art center.
Unlike Shen, he seldom paints scenery other than that of Shuangxi, with which he is quite familiar.
In his studio, visitors can view the landscapes that Yang paints in his own unique way. Each time he paints similar pictures, created on more than a dozen canvases, which are arranged side by side.
This layout enables Yang to achieve a high output-producing work as if on an assembly line-helping him to earn a monthly income of about 10,000 yuan.
Since its opening, the center has received more than 30,000 visitors from outside the county. A small-but-significant proportion of these visitors have chosen to stay to learn painting, according to Lin.
"Around 60 percent of the new settlers are in their 20s or 30s," says Lin.
"The center offers young people the chance to play a part in the rejuvenation of the region, while providing a refreshing alternative to fast-paced urban life.