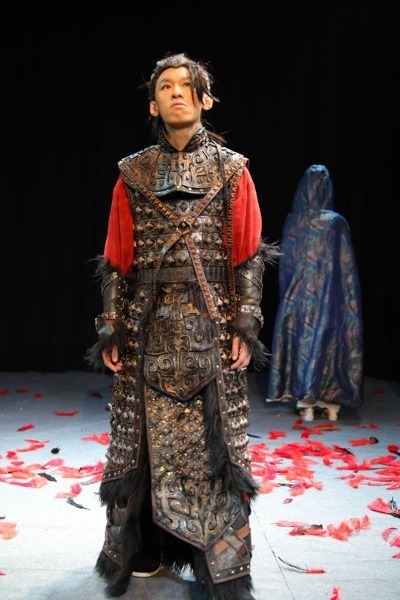 Student Lu Xiaochen, 19, plays the lead role of Khairab, he adds.
"The actors and production team members are students of acting and stage design of the university," Gao says.
"It's the first time that we created a play to be staged at the college theater festival. We are excited."
Composer Lu Guang, also a teacher at the university, wrote 15 original music scores for the play.
She borrows heavily from Mongolian ethnic elements, such as khoomei (throat-singing) and morin khuur, or the horse-head fiddle, to tell the story which is popular among the Mongolian people in the autonomous region.
Hero Khairab is one of the 11 plays being staged at the Golden Hedgehog College Theater Festival which is being held until Aug 17 in the capital.
These plays were selected out of 79 plays that were submitted for consideration to the festival organizers by 55 universities and colleges from 21 provinces, municipalities and autonomous regions all over China this year.
Since its inaugural event in 2001, more than 1,100 universities and colleges of China participated in the festival and more than 300 plays have been staged.
China Agricultural University's play, Song of Farming, opened the festival on Aug 2 at Nine Theater, the Chaoyang Culture Center, with two shows.
The play follows the university's history concerning agricultural research and the efforts of working with farmers in Quzhou county, Hebei province, in a bid to alleviate poverty. It is set against the backdrop of the 1970s.
According to Xu Wei, director of the center which is a co-founder of the festival, school plays and amateur dramas are popular in universities.
"The festival showcases what the drama scene is like on campus now-very diverse and experimental," Xu says.
"Students are open to various art forms and are very innovative, not afraid of breaking the rules of theater."
One of the school drama troupes is Wu Wen. It was founded in Tsinghua University in 2014 and about 100 students will take part in performing The Moon Lady on Aug 12 and 13.
The original play is directed by Luo Qixue, an English language literature major at Tsinghua University.