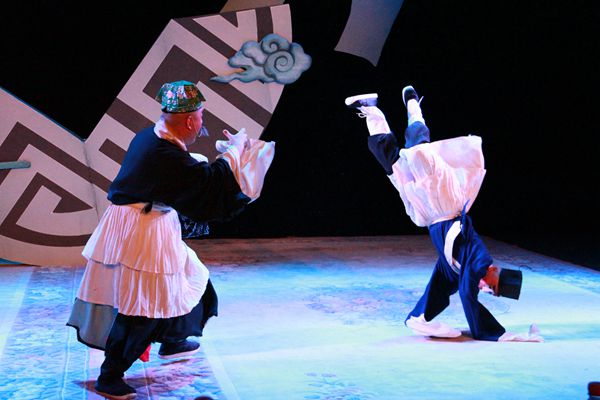 "Though student drama troupes are amateur, we create and perform with a professional attitude," says the 22-year-old director, who was born and raised in Nanjing, Jiangsu province.
Luo learned Peking Opera and Kunqu Opera in high school and college and studied with renowned theater director Tian Qinxin. Luo plans further study in directing at the Central Academy of Drama after graduation.
Another director, Du Yuan, 28, has just obtained her master's degree from the National Academy of Chinese Theatre Arts.
She directed her latest Peking Opera play last summer, entitled Fugui Shouyan (Wealth and Nobility Extending to Eternity).
It was staged on Aug 3 in Beijing at the festival after premiering in December at the theater of the National Academy of Chinese Theatre Arts.
Du wrote an original script for the play, inspired by the public discussion of medical treatment following the 2018 movie, Dying to Survive, depicting patients trying to access costly cancer treatments.
"We wanted to use traditional Peking Opera to tell a story, which is related to a contemporary social issue," says Du.
One of the aspects of the play was the use of four main chou actors. Traditionally these "clown characters" have minor roles in Peking Opera, compared with sheng (male roles) and dan (female roles).
"I wanted to break with convention and the feedback from the audience was good," Du says.
"The humor of chou actors fits the comedy well and the audience could understand their lines easily since most of them are recited rather than sung."
Du, born in Xinyang city, Henan province, was introduced to Peking Opera by her grandfather and father, both Peking Opera actors of a local art troupe. She grew up watching their performances.