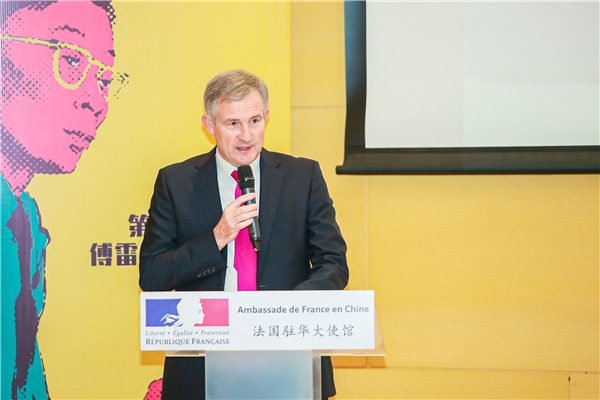 The legacy of venerated Chinese translator of French literature and philosophy, Fu Lei, lives on through the winners of a prestigious prize.
The winners of the Prix Fu Lei 2020 (Fu Lei Prize 2020) were announced on Nov 21 at the French embassy in Beijing.
Ning Chunyan, translator of the play Dans la Solitude des Champs de Coton (In the Solitude of the Cotton Fields) by Bernard-Marie Koltes; and Wang Wei, translator of the philosophical work by Jean Starobinski, Jean-Jacques Rousseau: La Transparence et L'obstacle (Transparency and Obstruction), won the prize, beating eight other shortlisted competitors in the two categories of literature and social sciences.
Zeng Zhaokuang won the New Translator Award for translating Juger la Reine (The Trial of the Queen) by Emmanuel de Waresquiel.
Wang Wei says that he studied Jean-Jacques Rousseau for his PhD dissertation and knew that his book is a very important academic work. When he first met his supervisor during his study in France, he was required to read Rousseau. It was then that he decided to translate the book.
"It's a rather difficult book to translate. Starobinski's writing is so good that I tried really hard to faithfully convey his style and meaning in the translation," Wang says.