Institutions boost cyberspace presence during pandemic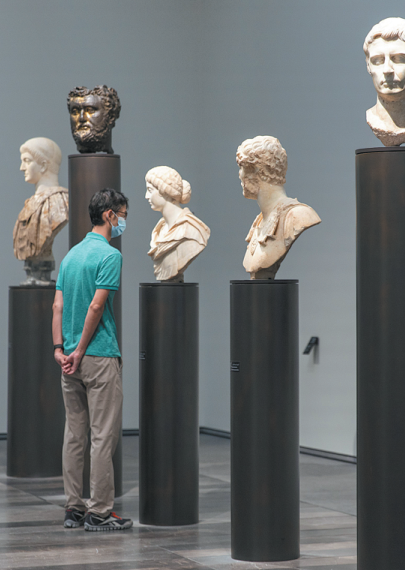 The COVID-19 pandemic has forced museums worldwide to close for some time, but Ke Tao, a 26-year-old working for an internet company in Shenzhen, Guangdong province, visits a number of these institutions three to four times a week, thanks to digital technology.
Innovative solutions have enabled the product manager to take virtual tours of well-known museums in China and farther afield.
The institutions she visits include the Palace Museum in Beijing, the Metropolitan Museum of Art in New York, the Royal Picture Gallery Mauritshuis in the Netherlands and the Seoul Museum of History in South Korea.
"Many museums have impressed me with their audience-friendly websites, variety of exhibits and comprehensive explanations of artworks," Ke said.
"Some museums have held livestreamed shows, allowing audiences to appreciate exhibitions by following virtual guides and interacting online with other visitors, which has been a novel experience for me."
According to a report by the United Nations Educational, Scientific and Cultural Organization, museums have been badly affected by the pandemic, with nearly 90 percent of them, more than 85,000 worldwide, having to close temporarily due to measures taken to combat COVID-19.
More than 10 percent of them may never reopen.
Museums were quick to react to the pandemic by developing their internet presence to maintain links with the public and take advantage of the digitization and digital communication work carried out on their collections.
This work includes online collections, 360-degree virtual tours, online publications and digital exhibitions, according to the report.
Many museums have seen a substantial rise in the number of visitors to their websites during lockdowns.
For example, the Louvre Museum in Paris saw visits to its website rise tenfold in the first few days of the lockdown in France. Visitor numbers were later reported to have reached a level three times higher than average, the report said.
However, the digital divide is now more apparent than ever, as only 5 percent of museums in Africa and Small Island Developing States are able to provide online content, according to the report.
Forced to close
Sharon Ament, director of the Museum of London, said that in March last year the institution was forced to close with almost no notice. Along with museums worldwide it immediately lost income generated from hiring out the venue, corporate hospitality, retail outlets, ticket sales, and restaurant and cafe takings.
"This was unprecedented and never featured on our annual risk register," Ament said, adding that in the 12 months from March last year the museum was only open for just over 13 weeks.
When it was allowed to open, the institution experienced low visitor numbers, averaging only 20 percent of the previous year's performance.
Ament said about 50 percent of its visitors came from overseas, but this flow dried up immediately.
"Our self-generated income streams, which form an important source of funding for the museum, producing £3.5 million ($4.2 million) each year, were badly affected," she added.