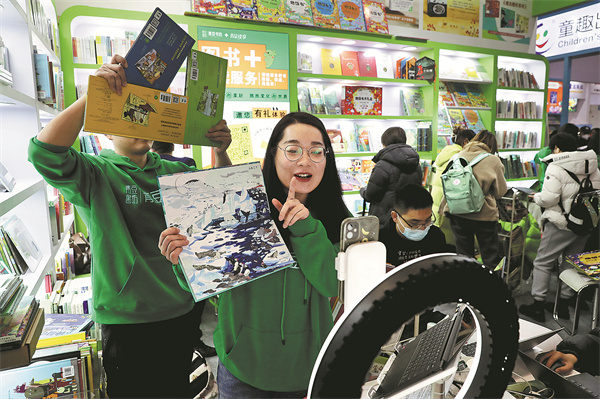 Staff members of a company recommend books via livestream at the start of the fair. [Photo provided by Wang Zhuangfei/China Daily]
Due to the COVID-19 pandemic, the publishing industry in China encountered a lot of difficulties in the past three years. However, as the bellwether of the publishing industry in China, the 35th Beijing Book Fair, postponed three times since 2021, saw a record number of visitors during its run from Feb 24-26, heralding, like spring, the green shoots of recovery for the industry in 2023.

The official statistics show that about 710 exhibitors set up 2,793 stands that presented nearly 400,000 book titles and 345 events, attracting more than 100,000 visitors, a record number, to the fair. On the first day of the book fair, at the peak time in the morning, visitors had to wait in line for half an hour to enter the exhibition center. Readers that could not visit in person could watch livestreamed events.
Apart from the recommendations by editors-in-chief from major publishing houses and experts in different areas on livestreaming platforms, audiences could also buy books according to the recommendations of the key opinion leaders. For example, the sales of books in the livestreaming room of Wang Fang, a key opinion leader, or KOL, on Douyin, the Chinese iteration of TikTok, surpassed 10 million yuan ($1.45 million) in five hours.
With its theme being "a new journey to strengthen cultural self-confidence and create brilliant publications of high quality", the fair offered books and events that displayed efforts in those areas.