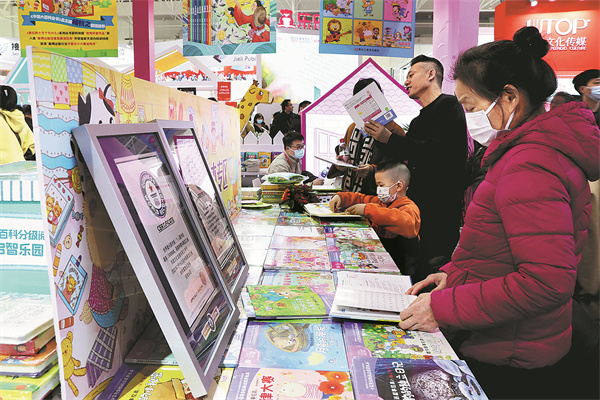 Visitors read books at the 35th Beijing Book Fair held at the China International Exhibition Center from Feb 24-26. [Photo provided by Wang Zhuangfei/China Daily]
As one of the earliest publishers to introduce foreign literature into China, The Commercial Press launched 100 book titles under the Chinese Translation of World Literature series at the book fair, which are classic works from different countries and regions, such as Persian Letters, Crime and Punishment, and A Thousand and One Nights, covering literary forms ranging from poetry, fiction and theater, to essays and biographies.

The five Revitalization Library collections became a highlight for Zhonghua Book Co at the fair. As a significant national cultural project initiated in 2017, the "library" is themed on the rejuvenation of the Chinese nation, and selects important literature pertaining to the national revival, dating to the Opium War in 1840. It profoundly reveals the historical logic, the lineage of thought and the cultural context for China in its march toward rejuvenation.
Zhonghua Book also invited the translator of The Complete Sherlock Holmes, Li Jiazhen, to share his experience with readers, as a new edition of the detective novels was released in 2022.
Li said, about 15 years ago, when he reread The Complete Sherlock Holmes, he realized that it is not simply a popular detective fiction series, but a literary classic in which the writer included in his elegant writing a wealth of historical information, which, however, was not fully displayed in the previous Chinese translations. So, he decided to retranslate the novels. It took more than a year for Li to complete the translation, based on the 2012 edition, adding more than 300 new annotations to the 1,200 previous ones, making the new edition the most annotated version in the world.
At the event "A flowing merging river of literature: Symposium on Chinese literature going global", Yilin Press invited Chinese writers, book editors and translators of Chinese literature to discuss how Chinese fiction can attract more readers from other countries.
By the end of 2022, the publishing house had sold the copyrights to 603 book titles in more than 40 countries and regions, covering 36 languages, said Yuan Nan, editor-in-chief of Yilin Press.
For example, in recent years, five novels by Chinese writer Lu Min have been translated into seven languages, of which the Swedish version of Dinner for Six entered the 2020 list of recommended books compiled by the Swedish cultural ministry, Yuan said.
Published by Balestier Press, the English translation of the novel was chosen by The New York Times bestselling author Paul French to be listed among the "best Chinese fiction in translation" in 2022. French wrote in the recommendation that the family depicted in the novel is "not your stereotypical Chinese family by any means" and reflects "the growing diversity of family forms in contemporary China".
Another novel by Lu, This Love Could Not Be Delivered, a youth crime fiction, has also been translated into English and was published by Simon & Schuster.
At the event, Lu shared her experiences with translators from Germany and Italy, saying that she found that interest from overseas translators and readers in Chinese literature may return to literature itself, rather than treating Chinese fiction as a way to satisfy their curiosity with preconceived Oriental stereotypes, and that they are sincerely interested in contemporary Chinese society.
English translator Michael Day commented, via video, on Lu's Golden River, which is being translated into Serbian and English, noting that it is a book with a grand theme and a complex narrative. He added that, although it represents an image of contemporary China, it's not a static screenshot, but more like a dazzling mosaic, inlaid with many vibrant and even colliding elements.
At the book launch event of Caomu You Benxin (Plants Grow for Themselves), Liu Huajie, a philosophy professor at Peking University, talked about "why common people need to 'visit' nature".
Liu studies scientific philosophy and history, but in recent years, he has been calling for resuming the ancient discipline of natural history, considering the plight that humans as a group, and as individuals, are facing in their development.
For him, natural history is an accumulation of the wisdom that humans have gained from their interaction with nature, and is a well-tested system of knowledge and action. Restarting the ancient discipline of natural history is not only to find fun in nature, but to reexamine human nature and the relationship over generations between humans and nature.
Caomu You Benxin starts with the plants that grow at Peking University to introduce interesting topics on plant nomenclature, plant terminology, invasive plants and plant ethics, to both popularize related knowledge, and offer a lifestyle, in which grown-ups can also maintain constant interest in exploring their surroundings like children, embracing a sense of optimism every day.
As artificial intelligence becomes increasingly smarter, people start questioning whether it is necessary to read. But reading, as an important way for humans to acquire knowledge and wisdom, will still be important, said guest speakers at an event with the theme, "In the time of AI, what is the meaning of reading".
"Whether a person can have continuous creativity and vitality depends on their humanistic cultivation, which is built through social life and reading," Cui Daiyuan, a cultural scholar, said at the event.
Every person has two worlds — the external material world and the internal spiritual world — and the nature of, and key to, human life lies in the spiritual world, which differentiates humans from animals, said Li Zhengrong, professor of Beijing Normal University.
"How does one build an internal spiritual life? They read," Li said.