The Academy of Arts & Design, Tsinghua University (AADTHU), has meticulously curated the best artworks and designs from its 210 undergraduates for its 2023 Online Graduation Exhibition. These works embody the essence of traditional culture and art while showcasing innovation.
"Looking back on the past, we see how the enlightenment of teachers and the mutual encouragement of classmates cultivated these young talents. The inspiration of art and the ingenuity of design have been gradually accumulated by them. They have internalized the country's expectations and their own aspirations into their motivation," wrote Ma Sai, the academy's dean, in his preface for the 2023 Online Graduation Exhibition.
He noted that these student works not only preserve the essence of traditional culture and art but also showcase the charm and innovation of the times, interpreting the mission and international vision of the new generation.
The AADTHU 2023 Online Graduation Exhibition is currently underway. To view it, click here.
Di Ji: 'Design of Foldable First-Aid Equipment for Fractures at Earthquake Sites' (Department of Industrial Design)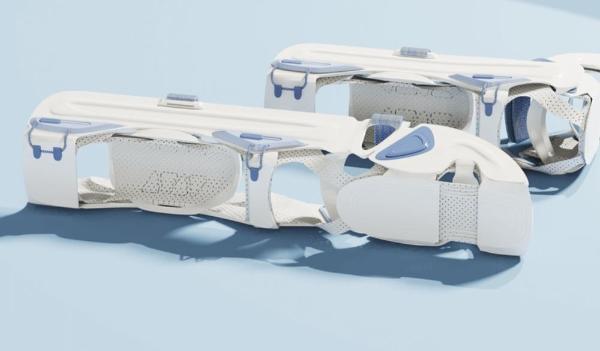 Concept art image of Di Ji's design. [Image courtesy of AADTHU]
In the immediate aftermath of an earthquake disaster, this product, designed by Di Ji, serves as a temporary solution for patients with mild to moderate fractures. It boasts a single-use mechanism that can be applied within 30 seconds, a lightweight but high-quality stabilization, and a foldable, adaptable fixation. Its main purpose is to stabilize injuries, prevent further damage, and lighten the workload for medicalpersonnel. Professor Zhao Chao supervised this design work.