Editor's note: Fujian puppetry is a Chinese performing art consisting mainly of string and hand puppetry. Mastering the craft requires a combination of sophisticated performing techniques with singing and storytelling abilities. The discipline's demanding requirements and the influence of emerging popular culture have resulted in a dwindling number of young puppetry practitioners since the 1980s.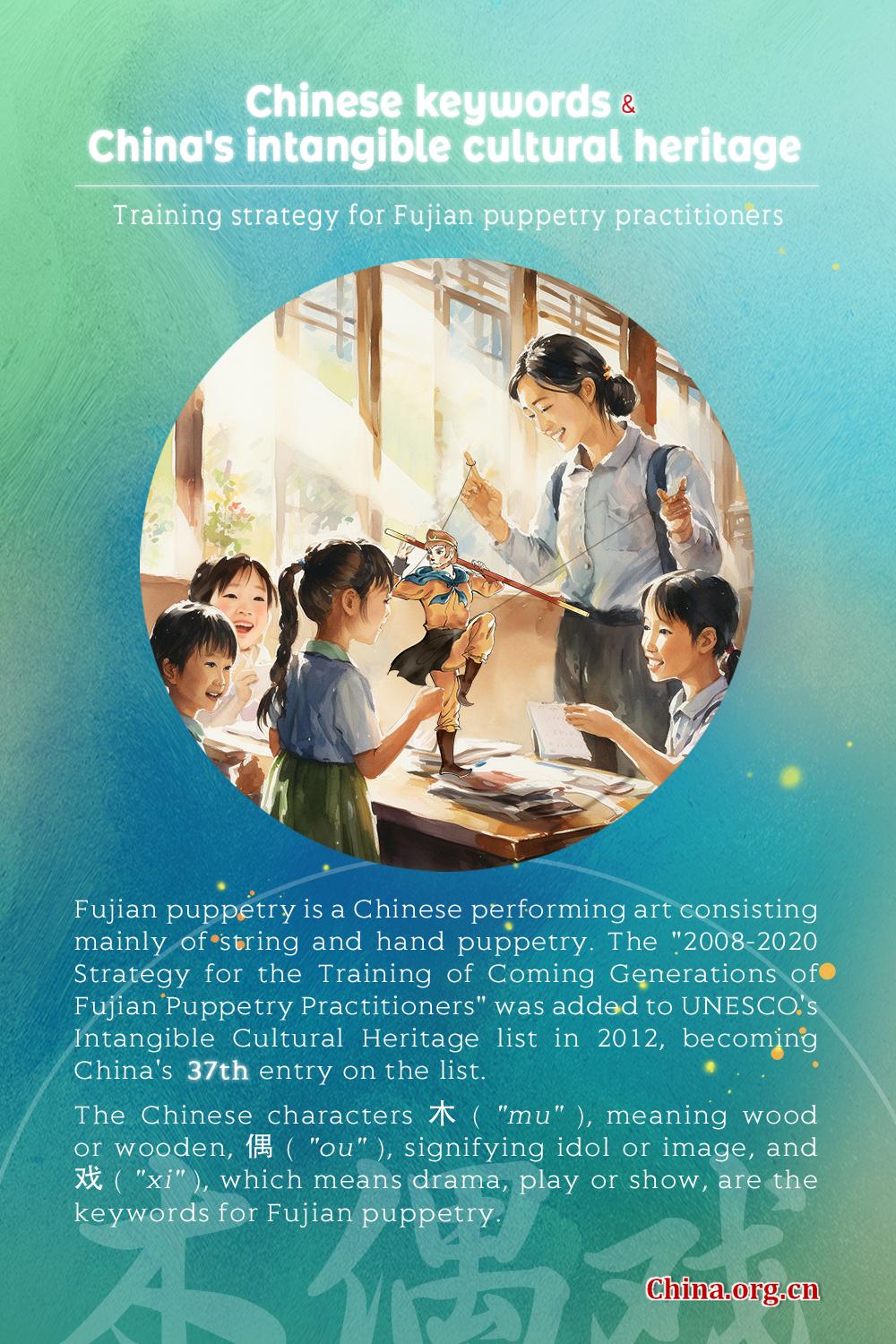 In response, local authorities in southeast China's Fujian province, in collaboration with concerned communities, arts groups and puppetry inheritors, formulated the "2008-2020 Strategy for the Training of Coming Generations of Fujian Puppetry Practitioners." After years of persistent efforts, the strategy has successfully protected this traditional performing art while sustainably nurturing a new generation of practitioners.
The strategy was added to UNESCO's Intangible Cultural Heritage list in 2012, becoming China's 37th entry on the list. The Chinese characters 木 ("mu"), meaning wood or wooden, 偶 ("ou"), signifying idol or image, and 戏 ("xi"), which means drama, play or show, are the keywords for Fujian puppetry.
Originating in the Han Dynasty (202 B.C.-220 A.D.) and flourishing during the Tang Dynasty (618-907), Fujian puppetry has been passed down for over 2,000 years, mainly through private instruction and demonstration. It involves complex puppet performing techniques and distinctive traditional opera singing and is deeply interwoven with local traditional customs.
To maintain the vitality of this ancient art, the strategy hinges on five aspects: providing financial assistance to inheritors, building an integrated education mechanism that combines performance with training, integrating vocational art education, promoting community involvement, and constructing theaters and training centers.
The strategy has brought financial security to old practitioners while encouraging them to ensure the future of Fujian puppetry. In order to offer more learning and performing opportunities for young practitioners, the plan has also offered financial aid to puppetry troupes, encouraging them to rehearse traditional theatrical pieces and stage more performances. These efforts have led to a revival and continuation of traditional theatrical pieces, musical modes and various performing skills, while also providing employment opportunities.
Through the continuous efforts of all relevant parties, the strategy has been implemented successfully as planned, reinforcing the confidence of Fujian puppetry inheritors and practitioners in their future careers and the sustainability of this performing art. The initiative has also spurred more individuals and groups to reimagine this ancient art in a modern way.
As UNESCO stated, "This strategy has witnessed a wide participation of practitioners, local people and educational institutions." Consequently, many more potential practitioners have received professional training, more public puppetry groups have been established, and financial support has been provided to representative bearers.
Find out more about China's intangible cultural heritage and their keywords:
China's 43rd UNESCO's ICH element: Traditional tea processing
China's 42nd UNESCO's ICH element: Wangchuan ceremony
China's 41st UNESCO's ICH element: Taijiquan
China's 40th UNESCO's ICH element: Lum medicinal bathing of Sowa Rigpa
China's 39th UNESCO's ICH element: Twenty-Four Solar Terms
China's 38th UNESCO's ICH element: Abacus-based Zhusuan