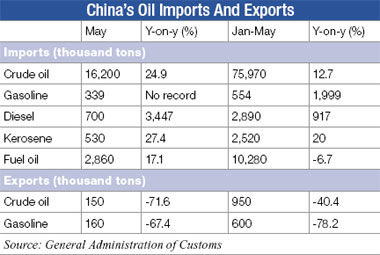 Once the largest gasoline exporter in Asia, China is now grappling with its new status - as a net importer - for the first time.
Analysts said this could continue unless domestic refining margins improve, or if the government removes the value-added tax rebates on fuel imports it has given to Sinopec and PetroChina while introducing new measures to compensate.
China has become a net gasoline importer as the domestic refining sector started to struggle with crude oil prices that have risen more than 40 percent so far this year. China hasn't raised fuel prices since November, leaving oil processors deep in the red.
Many independent refineries, estimated to account for around 20 percent of China's total capacity, have been forced to halt processing or run at minimum capacity to avoid losses.
Meanwhile, demand is rising with the summer peak season and the aftermath of the Sichuan earthquake on May 12. The central government also wants to ensure steady supplies ahead of the Beijing Olympics by stockpiling fuel.
So now the burden mainly falls on the shoulder of state-owned oil duopoly Sinopec and PetroChina, which have boosted processing, added imports and brought new projects on stream - despite losing money - to fulfill their social responsibility.
The nation imported 338,572 tons of gasoline in May while exporting only 160,000 tons. And the two state firms were expected to import another 600,000 tons of gasoline and 1 million tons of diesel this month to set fresh highs.
Sinopec this week officially started its major 10-million-ton-a-year Qingdao refinery, or about 200,000 barrels per day, in Shandong Province, which could help China reduce costly fuel imports. The company, Asia's largest refiner, said the plant is losing money.