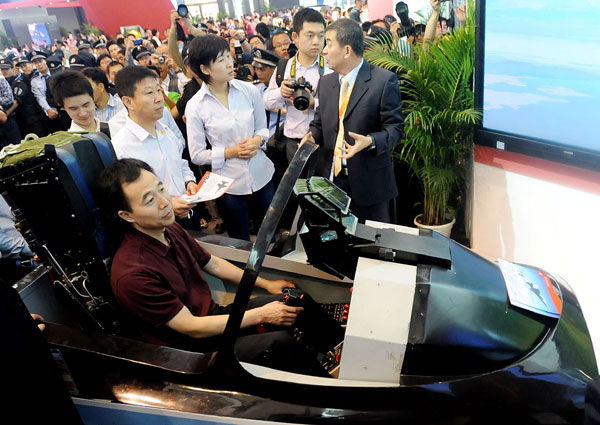 Astronauts Jing Haipeng (in the aviation simulator), Liu Wang (second left, second row) and Liu Yang (central, second row) try the aviation simulator of the Lieying L15 advanced trainer at the Ninth China International Aviation and Aerospace Exhibition in Zhuhai, Guangdong province, on Wednesday.[Photo/China Daily]
China's national aviation manufacturer has launched a long-term plan spanning until 2030 to develop advanced aviation engines.
Senior executives of Aviation Industry Corp of China claim they have set aside 10 billion yuan ($1.6 billion) for the first phase of the three-part plan, which will fund the research and development of engines until 2015.
"Our aviation engine operation consists of four parts, which means when we are manufacturing the current engines, we also actively develop next-generation engines and explore the technologies of more-advanced ones," said Zhang Jian, deputy general manager of AVIC Engine Holdings.
"The United States has been striving to make sure it leads by at least 20 years in the aviation engine industry. For us, the company has made a comprehensive plan through 2030, including the technological targets we shall have achieved by that year and the amount of money we will possibly invest," Zhang told China Daily on the sidelines of the Ninth China International Aviation and Aerospace Exhibition, also known as Zhuhai Airshow, which runs from Tuesday to Sunday in Guangdong province.
"Now most of the engines used by the People's Liberation Army air force are manufactured in China," he said, adding that in order to catch up with the latest and most advanced aviation engines, the AVIC has a plan that can be broken down into three phases.
"During the first phase, which will conclude by the end of 2015 if everything goes well, we will strive to ensure our air force's aircraft be equipped with proper engines and to lift our development capability to that of the developed countries' level in the 1980s. The second phase will witness us substantially narrowing the technological gap between developed countries and us. And by the end of the last phase, our engines will be as advanced as theirs."
"Aviation engine development combines a high concentration of various advanced technologies; therefore, only the five permanent members of the United Nations Security Council have the ability to develop aviation engines," said Li Fangyong, executive vice-president of Aviation Industry Corp of China.
"Developing aviation engines requests a nation to possess solid scientific and technological capabilities and a strong industrial manufacturing establishment. Unfortunately, China is comparatively weak in these regards."
Li said China failed to pay enough attention to the theoretical research of aviation engines in the past and it was not uncommon that only after a new aircraft had begun to be developed that the engine's development was hastily launched.
"We have also realized that although our investment is tremendous, it is far from sufficient, so we hope private businesses will engage in aviation engines' development," he said.
The development of a reliable engine needs a great number of experiments and tests that China was not able to conduct, according to Li. He attributed the problem to technological obstacles as well as the lack of adequate funding.
Zhang also mentioned some problems are still haunting the industry.
"Our engines' stability still needs improvement and the quality of production materials are not so satisfactory. We will spare no efforts in enhancing the quality of our products.
"In the near future, we will make sure that all of the PLA air force's third-generation aircraft use domestically developed engines," he said, confirming the AVIC is developing engines for China's stealth jet fighters.
The Jiuzhai engine, which was first made public by AVIC in Zhuhai on Tuesday and is designed to be used on business jets, can operate for as long as 20,000 hours, according to Li Xiaoming, chief designer of Jiuzhai at AVIC Gas Turbine Establishment.
The new engine is very reliable and as technologically advanced as its competitors in developed countries, he said.
"Our ultimate goal is to guarantee that China can develop its own aviation industry without being disrupted or contained by anyone else," Zhang said.