Alcoholics Anonymous has proved a massive help for the doctors at West China Hospital in Sichuan province, yet efforts to launch a Narcotics Anonymous program for drug addicts has proved less successful.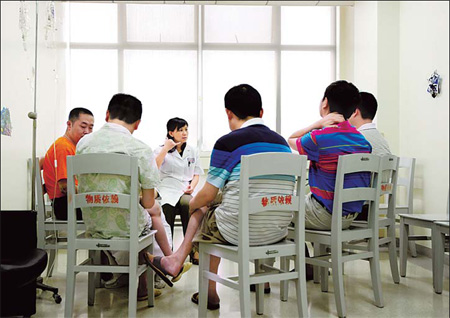 Cai Ying, center, a psychiatrist at West China Hospital in Chengdu, talks with alcoholics during a regular group therapy session as part of the hospital's Alcoholics Anonymous. The program is the first of its kind in Sichuan.
China's first NA group was launched by the Chengdu hospital's psychopharmacology and substance dependence ward in 2006, not long after it established its AA chapter.
However, the regular Friday afternoon sessions only ran for six months before the three founding members - two businesswomen and a female office worker - were discharged after treatment.
The trio, who were all admitted to the clinic after becoming hooked on drugs like ecstasy, methamphetamine and ketamine, became the backbone of the NA group.
After their conditions began to improve, though, they quit attending and now only return to the hospital to pick up prescribed medicine to help with the nerve damage they suffered from years of drug use.
"Compared with AA members, NA members are usually young people and change their ideas quickly," said Kang Lin, an associate professor at the hospital.
The psychopharmacology and substance dependence ward has an almost 50-percent success rate when it comes to curing drug addicts.
However, as drugs become more readily available, Kang said the clinic is witnessing an increase in patients.