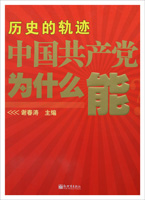 The cover of the book
A book that answers 13 questions about how the Communist Party of China (CPC) works in China and why the Party has made great achievements in the past decades has been recently published by the Beijing-based New World Press.
The book, named Why and How the CPC Works in China, puts forward a new way of introducing China and the CPC to the world.
Xie Chuntao, the author of the book and a professor with the Party School of the Central Committee of the CPC, writes in the foreword that since China has been developing rapidly in recent years, the topics such as "China model," "China's road" and "China's experience" are being discussed a lot at the international level. Why has this happened? Xie and the co-authors of the book raise and discuss 13 questions of the CPC's history and its way of governing the country.
"We provide the answers in a story-telling way," said Xie. "Unlike other academic books, we lead the readers to draw conclusions by themselves from the stories."
Zhao Qizheng, the spokesman of the National Committee of the Chinese People's Political Consultative Conference, said in his review of the book, "This book records the whole process from the foundation of the People's Republic of China to the modern construction of the country. I have been involved in the process, and this book's stories recall many of my memories. For many people in other countries, who have misunderstandings about the CPC, this book is definitely a must read."