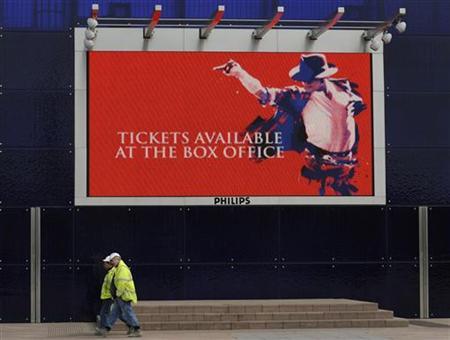 Workmen pass an advertising board for the forthcoming Michael Jackson concerts at the O2 Arena in London March 13, 2009. [Agencies] 
A music promoter on Wednesday sued to stop Michael Jackson from performing in London this year, claiming his appearances would violate a prior contract.
New Jersey-based AllGood Entertainment Inc contends in the lawsuit filed in federal court in New York it signed a deal with the singer's manager, Frank DiLeo, in November committing him to an appearance in the U.S. this summer.
Under the agreement, Jackson is not supposed to give another concert before that show, the lawsuit states. Jackson has signed with AEG Live to play 50 shows at London's O2 Arena starting in July.
AllGood Entertainment contends those shows violate the New Jersey company's agreement with DiLeo, which it says predates the singer's deal with AEG Live.
Representatives for Jackson and AEG Live were not immediately available to comment.
AEG Live, which is named in the lawsuit, has previously called AllGood Entertainment's claims meaningless.
Jackson has been rehearsing in the Los Angeles area for the London shows.
AllGood Entertainment contends in its lawsuit its agreement with DiLeo also left the door open for Jackson to perform with other members of his show business family, which includes his brothers from the Jackson Five and sister Janet Jackson.
The company's lawsuit alleges breach of contract, fraud and tortious interference with a contract. It seeks at least $20 million in compensatory damages and at least $20 million in punitive damages.
It also names as defendants Jackson's production company, as well as DiLeo, his company and AEG Live's parent company AEG, a wholly owned subsidiary of the Anschutz Company.
Jackson's series of London shows have been touted as unprecedented. AEG Live says that, all together, the shows will gather the biggest audience ever to see an artist in one city.
(China Daily/Agencies June 11, 2009)