Primary and Secondary Education
Primary and secondary education in China is composed of three stages: primary school, junior middle school and senior middle school, with a length of study of 12 years altogether. Generally, the length of study in primary schools is six years; junior middle schools, three years; and senior middle schools, three years. Primary and junior middle school education is compulsory. Children who have reached the age of six may enter primary schools. Where junior middle school education is basically universal, students who have graduated from primary schools may, without examination, advance to the appropriate junior middle schools. Junior middle school graduates may enter senior middle schools after passing examinations set by the local education authorities.
Since the issuing of the Compulsory Education Law of the PRC in 1986, governments at all levels have actively promoted nine-year compulsory education, and made remarkable achievements. Throughout the nation, nearly 1,500 counties, cities and municipal districts have basically instituted nine-year compulsory education, with a population coverage of about 50 percent. Senior middle school education is now virtually universal in large and medium-sized cities and the coastal areas, where the economy is fairly well developed.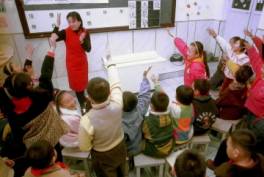 The experiment class "without desks" in Zhongshanlu Primary School in Harbin. This is liked by the pupils and has got good results. In the picture, the pupils are raising their hands to answer questions. 
Ethics, labor skills and after-school education are promoted in primary and secondary schools, laying a good foundation for the enhancement of the students* quality and their all-round development.

On January 7, 2000, the Ministry of Education held a tele-conference on the work of lightening the burden on primary and middle school students, and demanded that all local education departments take effective measures as soon as possible in this regard.