Vocational Education
The Chinese government issued the Vocational Education Law of the PRC in 1996, making explicit stipulations regarding the status, role, structure, functions and duties, management system and fund channels for vocational education.
China's vocational education is mainly composed of advanced vocational schools, technical secondary schools, skilled workers' schools, vocational middle schools, vocational training centers and other technical training schools for adults and training institutions run by social organizations or individuals. Vocational education is divided into three levels: advanced, secondary and primary levels, which coordinate closely with each other.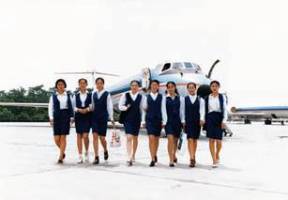 In-flight Service graduates
from Dalian Costume
Vocational Technical
Middle School have
become capable
stewardesses.
Advanced vocational education, the highest level of vocational education in China, is still in the initial stage. Conducted on the basis of the students having high-school education, it is an important part of higher education. At present, schools offering advanced vocational education are: 87 professional and technical colleges, short-term vocational universities and technical junior colleges; several dozen professional junior colleges, now undergoing reforms; 133 higher learning schools for adults (with 188 areas of study offered), where experiments in advanced vocational education are conducted; and 18 technical secondary schools which offer advanced vocational education classes. Their major task is to cultivate practical and technological specialists for the front line of the nation's economic construction. In accordance with the development program for vocational education, the existing system of advanced vocational education is to be reformed and restructured, and supplemented with a small number of leading vocational secondary schools to promote advanced vocational education and gradually develop into colleges of vocational technology.
Vocational secondary education is the principal part of China's vocational education. It has three forms: technical secondary schools, vocational high schools and skilled workers' schools.
The major task of technical secondary schools is to cultivate secondary technical and managerial personnel for the front line of production. After many years of effort, there are now 3,206 technical secondary schools nationwide.
The restoration and development of vocational high schools began in the early 1980s. Because they have adapted themselves to China's economic development and reform of the structure of secondary education, vocational high schools are developing rapidly. Now there are 8,500 such schools nationwide, with a total of four million students. They mainly train employees with high school educational level and certain professional skills. Compared with the low quality of professional teachers and textbooks, and simple and crude equipment for experiments and practice in the early 1980s, vocational high schools now have developed into well-equipped new-type schools with obviously improved quality of teachers and management.
Skilled workers' schools are vocational secondary schools for cultivating technical workers. China's first skilled workers' school was established in 1949. Currently, there are 4,467 skilled workers' schools nationwide, with 1.8625 million students studying 400-odd subjects.
To date, there are more than 17,000 vocational schools of various types and levels, 2,090-odd professional training centers, and over 400,000 training centers for workers and staff, technical training schools for adults and training institutions run by social organizations and individuals. Each year, millions of people are trained at the various training institutions and vocational schools. China has basically formed a vocational education system offering distinct advanced, secondary and primary levels of education in all trades.