Consumption
At the end of the 1980s, the rationing system basically came to an end all over the country. Now the consumer goods market has plenty of everyday articles, as well as food; and fundamental changes have taken place in consumption patterns, transiting from simply having enough to eat and wear to the better-off pattern. The Engel coefficient (the proportion of food expenses in the total consumption expenditure) of urban residents dropped from 57.5 percent in 1978 to 41.86 percent; that of rural residents, from 67.7 percent to 52.56 percent. Meanwhile, the proportion of recreational, educational, cultural and service expenses of urban residents increased from 6.7 percent to 12.3 percent; that of rural residents, from less than one percent to 10.7 percent.
With adequate food and clothing, the consumption patterns of urban and rural residents have been optimized step by step; and the quality of life has been remarkably improved, changing from quantity satisfaction to quality improvement. The consumption of meat, eggs, poultry, milk, aquatic products, vegetables and fruit has kept increasing, and that of staple food such as grains has decreased by a big margin. According to statistics, the dietetic nutrition level of Chinese residents has basically reached the level of the Asian countries with medium-level incomes. Clothing standards have changed, too. People wore dull-colored, cheap clothes in the past. Now more and more consumers show interest in more fashionable and more expensive clothes, aiming at displaying their own personalities. Urban residents pay attention to new-style, beautiful, comfortable and well-made clothes. The consumption proportion of ready-made clothes has increased greatly, and the average consumption volume of cloth is equivalent to the world's average. Durable consumer goods for urban and rural residents have increased in number and improved in quality, with the popularization rate increasing rapidly. After having experienced the transition from the "four old commodities" (bicycles, wrist watches, sewing machines and radios) to the "six new goods" (TV sets, washing machines, tape recorders, refrigerators, electric fans and cameras), urban residents are now paying attention to new consumer goods, including telephones, household computers, cars and commercial housing. According to statistics, the number of TV sets per 100 households in China is higher than the world's average.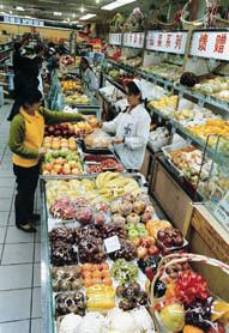 A corner of a chain store.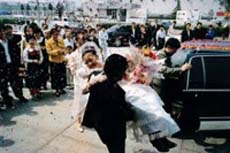 Welcoming a bride--a local
custom in Northern China.