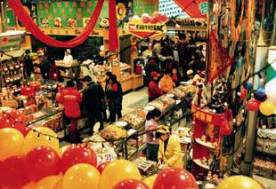 Xidan Shopping Center in Beijing.
Income
The incomes of rural workers grew fairly quickly from 1949 to 1957. Between 1958 and 1978, the average peasant's net income increased by 83 percent, an annual growth rate of 2.9 percent. Since 1978, peasant income has soared as a result of new rural policies, such as the household contract responsibility system, diversification of the economy, and the development of rural enterprises. In addition, the state has raised the purchase prices of farm and sideline products substantially. According to statistics, the average per capita net income of rural residents rose from 113.6 yuan in 1978 to 2,210 yuan in 1999—an increase of 4.7 times after deducting price increases. Urban incomes have also risen because of more family members being employed, wage increases, and added income from labor insurance and welfare funds. The per-capita income that city dwellers could budget rose from 343.4 yuan in 1978 to 5,854 yuan in 1999, or an actual increase of 3.6 times after deducting price increases.
The unitary wage income of urban residents has developed toward diversification. In 1997, the wages of urban staff and workers made up 68 percent of their total yearly income, or a 24.6 percent decrease over 1978. Along with the rapid rise of townships, and the growth of the number of peasants who leave their hometowns to work or do business, the situation in which rural incomes mainly relied on selling agricultural and sideline products has been changed. As incomes increased, urban and rural savings deposits increased from 21.06 billion yuan in 1978 to 5,962.18 billion yuan in 1999—a growth of 283 times.