Utilizing Foreign Capital

China absorbs foreign capital through foreign loans, direct foreign investment and other investment by foreign business people (international leasing, compensation trade, processing and assembling). So far, foreign business people from more than 170 countries and regions have made investments in China. Since the founding of the first Sino-foreign joint venture in 1980, China has taken the utilizing of foreign capital as an important aspect of basic state policy, and great efforts have been made to promote it. In the beginning Sino-foreign joint ventures first entered the processing industry, and later they expanded toward the basic industries and export-oriented enterprises, commerce, finance, information, consultation, real estate, and other fields.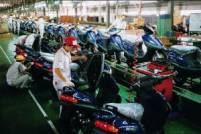 The assembly line of
the Xiaxing Motorcycle
Co. Ltd. at the Xinglin Taiwan business investment
zone in Xiamen City.
Though most Sino-foreign enterprises are located in the coastal cities, some of them have gradually settled down in the inland cities. In recent years, thanks to the constant improvement of China's investment environment, some international consortiums and transnational companies have come to China, one after another. Of the 500 top transnational companies in the world, more than 300 have invested in China. Foreign investments have become an important capital source for China's economic construction. In 1999, direct foreign investments in real terms totaled 40.3 billion US dollars; and projects with direct foreign investment numbered 16,918. Between 1979 and 1999, of foreign capital utilized by China, the accumulative total of direct foreign investment came to 305.9 billion US dollars. By 1999, China had approved the founding of 342,000 foreign-funded enterprises, of which over 100,000 have gone into operation. Most of them have made satisfactory profits.