Special Economic Zones and Open Coastal Cities

When it decided to reform the national economic setup in 1978, the Chinese government embarked on a policy of opening to the outside world in a planned way and step by step. Since 1980, China has established special economic zones in Shenzhen, Zhuhai and Shantou in Guangdong Province and Xiamen in Fujian Province, and designated the entire province of Hainan a special economic zone. In 1984, China further opened 14 coastal cities—Dalian, Qinhuangdao, Tianjin, Yantai, Qingdao, Lianyungang, Nantong, Shanghai, Ningbo, Wenzhou, Fuzhou, Guangzhou, Zhanjiang and Beihai—to overseas investment. Then, beginning in 1985, the state decided to expand the open coastal areas, extending the open economic zones of the Yangtze River Delta, Pearl River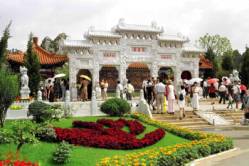 China's '99 Kunming World Horticultural expo was opened on April 30. This picture shows a scene built by Shandong Province.
Delta, Xiamen-Zhangzhou-Quanzhou Triangle in south Fujian, Shandong Peninsula, Liaodong Peninsula, Hebei and Guangxi into an open coastal belt.In 1990, the Chinese government decided to open the Pudong New Zone in Shanghai to overseas investment, and opened more cities in the Yangtze River valley. In this way, a chain of open cities extending up the Yangtze River valley, with Shanghai's Pudong as the "dragon head," has been formed. Since 1992, the State Council has opened a number of border cities, and in addition, opened all the capital cities of inland provinces and autonomous regions. In addition, 15 free trade zones, 32 state-level economic and technological development zones, and 53 new- and high-tech industrial development zones have been established in large and medium-sized cities. As a result, a multi-level, multi-channel, omni-directional and diversified pattern of opening, integrating coastal areas with riverine, border and inland areas has been formed in China. As these open areas adopt different preferential policies, they play the dual roles of "Windows" in developing the foreign-oriented economy, generating foreign exchanges through exporting products and importing advanced technologies and of "radiators" in accelerating inland economic development.
Primarily geared to exporting processed goods, the five special economic zones are foreign-oriented areas which integrate science and industry with trade, and benefit from preferential policies and special managerial systems. They have summed up their rich experiences in absorbing foreign investment and developing foreign trade for China to open up to the international market. In recent years, the special economic zones have led the country in establishing new systems, upgrading industries and opening wider to the outside world, serving as national models. In 1999, Shenzhen's new-and high-tech industry became one with best prospects, and the output value of new-and high-teach products reached 81.98 billion yuan, making up 40.5 percent of the city's total industrial output value and coming out in front in the country.
Since its founding in 1992, the Shanghai Pudong New Zone has made great progress in both absorbing foreign capital and accelerating the economic development of the Yangtze River valley. The state has extended special preferential policies to the Pudong New Zone that are not yet enjoyed by the special economic zones. For instance, in addition to the preferential policies of reducing or eliminating Customs duties and income tax, common to the economic and technological development zones and certain special economic zones, the state also permits the zone to allow foreign business people to open financial institutions, and run tertiary industries. In addition, the state has given Shanghai permission to set up a stock exchange, expand its examination and approval authority over investments and allow foreign-funded banks to engage in RMB business. In 1999, the GDP of the Pudong New Zone came to 80 billion yuan, and the total industrial output value, 145 billion yuan. Up to now, 78 Chinese and foreign-funded financial institutions have been set up in Lujiazui, Pudong, of which 24 foreign-funded banks have been approved to engage in RMB business. The 5,900 foreign-funded enterprises, with a total investment of nearly US$30 billion, and over 5000 domestic enterprises from all over the country, with a total registered capital of about 20 billion yuan, have formed six pillar industries: automobiles and spare parts and components, microelectronics and computers, household electrical appliances, bio-medicines, and optical, mechanical and electrical products. A large number of projects funded by business people from more than 60 countries and regions have taken root and blossomed there. Pudong's "dragon-head" role of radiating and leading the whole country is becoming more and more prominent.