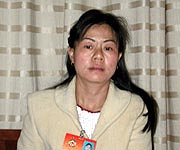 Sun Xiaohong
Question: Where are you from?
Answer: Jinoluoke Township of Jinghong County in the Xishuangbanna Dai Autonomous Prefecture, Yunnan Province.
Question: What is your profession?
Answer: A Chinese-language teacher at the Primary School of Jinoluoke Township.
Question: What is the issue of most concern to people in your area of China?
Answer: The people in my area are now most concerned about the farm-to-forest conversion project. As you know, the government now calls for the peasants in mountainous areas to convert farming fields to forests. Itís not a surprise that many peasants in my area are worrying about how they can find new sources of income once the project is carried out.
Question: What proposals have you made, or what did you hope to accomplish at this session?
Answer: I put forward six proposals at the session. And I think two of them -- one is about the construction of the Jinghong-Mohan part of National Highway 213, and the other is about the project of the Jinghong Hydropower Station at the Lancang River (the Mekong River) -- are really important. Moreover, I said in the group discussions that I hope the government will help peasants solve the problems they will meet in the farm-to-forest conversion project and provide more support to ethnic minority groups.
Question: What have you seen achieved over the last five years?
Answer: I did receive replies to my proposals but few of them have been adopted.
Question: When the Conference is not in session, how do you exercise your responsibilities as a CPPCC member?
Answer: I donít conduct investigations or attend meetings often because Iím always busy with teaching my students. The local people can visit me, and we might come across each other on some occasions. I just pick up their opinions and transmit to the government.
Question: What is your hope for the future?
Answer: I think I wonít be here next year. I will try my best to do my own job well to be a good teacher.
(By Chen Chao, china.org.cn staff reporter, March 15)