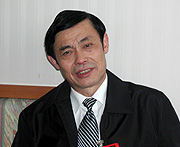 Yao Hui
Question: Where are you from?
Answer: Tieling City, Liaoning Province
Question: What is your profession?
Answer: Mayor of Tieling City
Question: What is the issue of most concern to people in your area of China?
Answer: I am one of the people in Tieling City, and I believe what I think most important is definitely the most important issue to them. I often ask myself how to open wider to the outside and accelerate economic development to meet the challenge of the world economy after China's entry into WTO. Developing is an eternal question to us.
Question: What proposals have you made, or what did you hope to accomplish at this session?
Answer: In my term as a deputy to the National People's Congress I have delivered some eleven proposals to the Congress in the fields of legislation construction, reform in state-owned enterprises, and setting referential policies towards agriculture industry.
Question: What have you seen achieved over the last five years?
Answer: The faces of the villages and towns have changed a lot since I was appointed as the mayor of Tieling City. I witnessed how people's minds have been freed and updated through market economy ideas.
Question: When Congress is not in session, how do you exercise your responsibilities as a deputy?
Answer: I think it's more important to be a qualified mayor to the people of the city, and then on that basis I can perform the responsibilities as a deputy to NPC.
Question: What is your hope for the future?
Answer: I hope I can get the support and trust of the 30 million residents of Tieling and win the next NPC deputy election. If fail, I will follow the wishes of people with no complaints.
(By Liu Wenlong, china.org.cn staff reporter, March 16, 2001)