If you've been to Inner Mongolia, you would find it not so difficult to understand why many beautiful songs have been written about the place. The peaceful and open grassland make you want to sing and dance. This reporter from China.org.cn recently experienced this festive jollity and beauty in Inner Mongolia.

Mongolian herdsmen are known to say that Mongolians always feel their hearts filled with emotion. Just opening their mouths, beautiful songs come into being. They express happiness and sadness, love and hatred through song. When praying to their ancestors, they sing sorrowful elegies and in ancient times, when they went to battle, they sung sturdy fighting songs. In love, sweet love songs wooed their lovers; marrying their daughters to far off places, they sing melancholic songs. Holding parties there are toast songs. The herdsmen tend their sheep and cows alone and sing pastoral eclogues for company. Also, there are still songs for homesickness, yearning and for praising horses.

Mongolian folk songs can be classified according to their function as songs of everyday life, ceremony and dance. Their genre is divided into lyric melodies, narrative songs for performing art, response songs, tragic melodies, humor and songs for festive occasions.

There are two basic forms: short and long songs. Short songs are more popular and have short tunes, sharp rhythms, originality and vivacity, and are connected with daily life and activities, combined with beautiful decoration. But the Mongolian long song, which is featured as a long-lasting and resounding coda, is of the classic genre. Long songs, compared with the shorter version, are more impressive and liked more for their philosophical style, evocative as they are of vast open space. They demand great skill and talent from singers, especially in breathing and guttural singing techniques. Repetitive rhyming is a feature of the beginning of folk songs from Inner Mongolia.

These folk songs always use figurative description to describe things. For example, at the beginning of an ancient folk song named Two Black Horses of Genghis Khan, the words are: "They're like two pearls; they're like two golden flowers; they're like two falling stars -- and they are the two horses of Genghis Khan. Their mane is like fire; their heads are like two crescents; they are graceful like deer; and their tails are like rainbows."

There are also many epic songs and verse in Inner Mongolian culture. The epic is a classic genre of Mongolian folklore. Rooted in epic songs that depict the brave heroes of the 10th century, in the 12th and 13th centuries, they flourished and large epic songs and verse became more popular. The film Gada Meilin directed by Feng Xiaoning, originates from a famous epic tale, which describes the hero Gada leading the herdsmen's struggle with the evil local official and reactive warlord, Zhang Zuolin.

Dance is always closely connected with song. According to history, the earliest dance in Inner Mongolia was named tage (stamping feet accompanied by singing). The pastoral life and the work of the herdsmen became the other source for dance there. The male dances in Inner Mongolia are rugged, lionhearted, and full of power. The famous male dances are the horse and sword dance, the hawk dance, and the roughrider dance. Every movement in the dance shows the audience the beauty in power, virile and work.

In the powerful dance, the hawk and the horse are the two most important roles. Genghis Khan looked on the hawk as the God of War, which could guarantee him victory. Now, people still regard the hawk as a symbol of victory. Wrestlers today go onto the racing field imitating the hawk jump, which, they believe, can enhance their confidence. In some areas, the ceremony of "jumping white hawk" is held to cure uncommon diseases of people.

The horse is essential to nomadic tribes in Inner Mongolia. Since horses are intuitive of human feeling and can know the way through boundless prairies and help their owners out of trouble during war, they are loyal friends to nomadic tribes. Consequently, horse images are frequently found in folk dances on the pasture lands. Herdsmen do not simply imitate the appearance of a horse. They put deep feeling into portraying horse characteristics. By arm, shoulder and body movements, they reveal the valiant and heroic bearing of horse riders and various horse images.

There are also female dances in Inner Mongolia. The most famous are the Jinai dance (milking dance), the Caihong dance (rainbow dance), the Zhongwan dance (bowl dance), the Kuaizi dance (chopsticks dance), and the Andai dance. There are also many stories about these folk dances for women.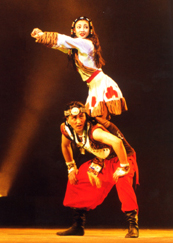 The Andai dance, for example, has many beautiful stories. One of them is: Andai actually is the name of an ordinary girl. Once she caught a serious disease and was dying. Her father drove the carriage to send Andai to see the doctors. And no doctor could cure her. Her father never gave up and drove the carriage from one doctor to another. Unfortunately, the carriage broke after a really long journey. Her father was broken-hearted and crying. Herdsmen from all directions who heard the sad crying went there and calmed the old man. At last, they encircled the father and daughter, and sang and danced to encourage them. When Andai heard the courageous singing and vigorous dancing, her depressed heart was encouraged and her disease was miraculously cured.

So the Andai dance in Inner Mongolia nowadays is not simply a dance. It has religious and mystical color. When women get depressed because of the restraints of love and marriage, their families invite a Shaman to dance "Andai". Singers and masses are also invited. Together with them come young men and women from nearby. No musical instruments are used, but fixed with rhythm and libretto. Some dance movements are composed impromptu, some simple and ordinary. Led by the Shaman, the audience encircle the singer and dance around her. In this way, they try to console the patient. They sing: "Spread out your black hair, Ah, Andai!" "Your friends are all here, Ah, Andai!" or "Who are you missing? Speak out and you will be fine!" With speeding rhythm, people begin dancing wildly. The patient is therefore stimulated to feel better.

(China.org.cn by staff reporter Chen Lin, October 10, 2003)