More than 5,000 Chinese gathered in front of the Yellow Emperor's Mausoleum on Tuesday in Huangling, Shaanxi Province, to pay their respects to the legendary father of the Chinese nation.

The crowd included a special delegation from Taiwan led by John Chiang Hsiao-yen, Kuomintang Central Standing Committee member and grandson of the late Kuomintang chairman Chiang Kai-shek.

The ceremonies are held annually on Qingming Festival, a traditional day for the Chinese to pay homage to their ancestors.

Chiang and his delegation arrived in Xi'an, the capital of northwest China's Shaanxi Province, on Monday evening.

He said he was attending the ceremony both as a Chinese and as a member of the Kuomintang Central Standing Committee.

"It is very significant to be here to attend the ceremony. People on both sides of the Taiwan Straits are Chinese. Nothing can, or should, separate them from each other, from the same root, the same clan and the same ancestor. Blood is always thicker than water," he said.

Chiang expressed the hope that charter flights between the mainland and Taiwan will be expanded to include all travelers with valid certificates, rather than solely to Taiwanese businesspeople on the mainland.

"We must maintain peace and exchanges between the two sides and make progress step by step," he said.

Chen Deming, governor of Shaanxi Province, said that reunification of the motherland would be the best way to honor the Yellow Emperor's memory.

A central government delegation led by Xu Jialu, vice chairman of the Standing Committee of the National People's Congress, and Liu Yandong, vice chairwoman of the National Committee of the Chinese People's Political Consultative Conference, also attended the ceremony.

The Taiwan delegation will participate in various economic and trade activities organized by the local government during its stay in Shaanxi.

The Yellow Emperor, a great tribal chief of China's prehistory, is recognized as the first sovereign of civilized China. He is credited with such inventions as the cart, boat, bow and arrow and Chinese medicine. One of his imperial historians is believed to have created Chinese pictography.

Since 1992, 130 million yuan (US$15.7 million) from the central and local governments, companies and individuals has been spent on renovating the mausoleum.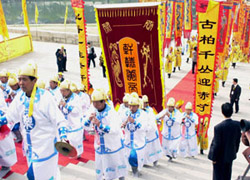 (China Daily April 6, 2005)