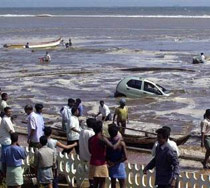 Last Sunday's tsunamis in the Indian Ocean sent off a warning that China should accelerate its ocean research, said Chinese experts.
Wang Pinxian, director of the lab with the Department for Education in Maritime Geology of Shanghai-based Tongji University, said that the country's research of oceans is weaker than its research of the land or the atmosphere.
Many earthquakes on land were actually caused by seabed quakes, causing heavy damages. Some earthquakes taking place in the deep oceans might be felt only through their tsunami aftermath, said Wang, who is a member of the Chinese Academy of Sciences (CAS).
China, with a coastline of 9,000 km, has suffered heavy losses in its coastal cities caused by maritime quakes and tidal waves. Taiwan Straits and offshore of Taiwan are often labeled natural disaster prone. An earthquake in the Yellow Sea in November 1996 was felt in Shanghai on east China coast.
The economic development along China's coast, which has gained steam in recent years, has made it necessary to pay greater attention to the study of oceans. A better understanding of the oceans should help reduce losses from marine quakes and the tidal waves they produce, said Luo Zude, professor of disaster research at East China Normal University.
Luo warned that coastal areas including Shanghai should keep improving their capabilities of combating maritime disasters and prepare for all kinds of marine disasters.
Academician Wang admitted that in terms of basic ocean research, China only leads the world in the ancient environment, but many aspects of the ocean research had remained a blank in the country owing to limited funding.
According to Wang, China has allocated 5 billion yuan (about US$602 million) for ocean research during the tenth five-year-plan period (2001-2005).
(Xinhua News Agency January 2, 2005)