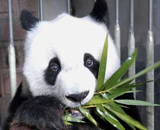 By Wayne Risher
---
I am a reporter for The Commercial Appeal, a daily newspaper in Memphis, Tenn.
Our Memphis Zoo has an application pending with China for a 10-year loan of two pandas. The zoo is currently building a China exhibit that would house the animals and also showcase the culture, traditions and other animals of China.
It has been reported to us that the application has been approved by the Chinese forestry and construction bureaus and forwarded to the State Council for a final decision.
I would appreciate your assistance in obtaining any news that is pertinent to our panda application.
------
Dear Wayne Risher:
We have contacted the Chinese Association of Zoological Garden, non-governmental organizations in charge of assisting in the 10-year loans of pandas program, including the two pandas for the Memphis Zoo. A staff member there told us that all the initial contracts have been signed between the two sides, and an application has been forwarded to the State Council of China for a final decision, as you mentioned in your letter.
So far, the situation in Memphis seems to be going according to regular procedures under the Convention of International Trade of Endangered Species. Those procedures include an institution's approaching either of the two governmental bodies in China involved with pandas -- the State Forestry Administration and the Ministry of Construction -- through an associated non-governmental organizations like the China Wildlife Conservation Association or the Chinese Association of Zoological Garden. The foreign zoo and the non-governmental organization then develop and sign a detailed letter of intent specifying (among other things) which individual animals would be transferred, along with the financial arrangements for the loan payments. This agreement is then approved by the State Forestry Administration, in its role as the implementing office for Convention of International Trade of Endangered Species, and also by the Ministry of Construction if the loan is arranged through MOC. The approved contract then passes through the Ministry of Foreign Affairs and is eventually given to the State Council for final approval.
Most of the above information comes from a 2001 report on pandas from the US embassy in Beijing at their website http://www.usembassy-china.org.cn/english/sandt/PandaPrimer.htm. You might contact the embassy for any further particular information on the pandas reserved for Memphis.
We can only add of own knowledge that the Memphis Zoo's application does appear to be in its final stages and that according to the staff member with the Chinese Association of Zoological Garden, since giant pandas are considered a national treasure of China, such decisions are weighed carefully by the State Council and that an appropriate decision will be made at an appropriate time.
Sincerely Yours,
The editors
(www.china.org.cn April 30, 2002)