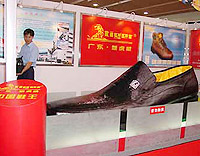 The European Union's protectionist policies, if implemented, will like a swift kick in the butt for shoemakers in South China's Guangdong Province.
Shoe manufacturers in the province, which has a booming, export-driven economy, fear the EU will launch an investigation and impose dumping tariffs on their products.
That would be a heavy blow for the shoemakers, who produce high-quality, but inexpensive, footwear.
The policy, without exception, will result in reduced shoe exports from Guangdong Province, an expert said.
"That is because the province is both China's largest exporter and producer of shoes, and the EU has long been Guangdong's third-largest shoe export destination," said Chen Jiawen, president of the Guangdong Chamber of Commerce of Shoe Manufacturers.
The United States and Hong Kong are the top two destinations of Guangdong's shoe exports.
Guangdong's shoemakers produce a combined 3 billion pairs of shoes annually.
Last year, the province exported 2.21 billion pairs of shoes, worth US$5.27 billion.
Sources suggest EU officials are considering investigating China's September imports of shoes before deciding whether to file a dumping accusation and lawsuit against China's shoemakers.
EU officials are also reportedly considering various trade rescue measures to protect European suppliers of shoes.
Italy, Portugal, Spain and France want EU officials to take action against China.
Several EU members, led by Germany, have implemented stringent standards, in terms of technology and environmental protection, to shoestring China's footwear exports to the EU.
Despite the gigantic volume of exports, most of the shoes shipped to the EU are low-end, and inexpensive. As a result, such restrictions will no doubt close the door to Guangdong's exports, Chen said.
Guangdong Customs Administration statistics indicate, between January and May, Guangdong exported US$230 million worth of shoes to EU nations. That accounted for 10.1 per cent of the province's total shoe exports during that period.
The province, during those five months, sold 1.05 billion pairs of shoes, which were worth a combined US$2.30 billion, to overseas markets. A meager 61.6 per cent of those shoes retailed for about US$1.34.
Shoemakers need to understand the importance of building their brands, and they need to pay more attention to technological innovation, designs and reputation, Chen said.
Guangdong has more than 10,000 shoe manufacturers, but 60 per cent have chosen to be original equipment manufacturers (OEM) for international shoemakers.
The OEM business only enables them to earn a lean profit, while the lion's share of revenues go to the brands' owners, he said.
Lacking their own brands and/or competitive products, shoemakers have long resorted to an "undercutting" strategy to gain global market share.
That has resulted in falling prices, dwindling profits and growing risks of anti-dumping litigation, Chen said.
The lack of shoe designers will also impede the development of Guangdong's shoe industry, he added.
"The shoemaking technology and processing skills are OK in Guangdong," he said. "What is most urgently needed is high-caliber designers."
There isn't a shoe research institute in the Pearl River Delta, which is renowned for its manufacturing capability, Chen said.
Also, higher education institutions do not offer shoe design courses, he said.
China has only one shoemaking research institute. It was recently established in Beijing.
Lu Lincheng, general manager of Foshan-based Rishun Shoes Co Ltd, said shoemakers must do more to diversify overseas market channels in developing countries.
Rishun, which has access to many countries, will suffer little if EU officials take action against China's shoemakers, Lu said.
(Business Weekly July 21, 2004)