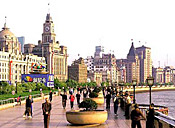 Consumers and economists share an optimistic outlook for the Chinese economy over the next six months, according to two surveys.
Chinese consumers are among the most optimistic in the Asia-Pacific region, according to a survey by credit card firm MasterCard International, released yesterday.
And the nation's economists believe that economic stability or further growth will occur over the next six months.
MasterCard International surveyed over 5,400 consumers from May 15 to June 5 in 13 markets in the Asia-Pacific region.
Viet Nam, Malaysia and China topped the list of markets with the most positive outlook.
Chinese consumers remain very optimistic about employment, the economy, regular income, the stock market and overall quality of life, the company said.
Yuwa Hedrick-Wong, an economic adviser for the company in the Asia-Pacific region, said the Chinese economy would continue stable development over the coming months.
China's economic growth rate will fall from 11 to 9 per cent, shifting from acceleration to cruising, he said.
Chinese economists also hold prudently optimistic views on the nation's economic development for the next six months, according to a separate survey by the National Bureau of Statistics, which was released on Monday.
The survey of 50 major economists found that 88 per cent of them believe the economic situation would remain unchanged or even become better for the next six months.
Economists who believe the fixed asset investment, consumption and exports would remain unchanged or even better accounted for 69 per cent, 88 per cent and 55 per cent, respectively.
The central government's macroeconomic control measures have helped cool down runaway economic growth, said the economists.
Inflationary pressures will be alleviated, and the pressure for an appreciation of the Chinese currency, the renminbi, will reduce, said a majority of the economists surveyed.
Prospects for China's utilization of foreign investment will improve, and economic globalization will benefit the country's development.
A majority of the 50 economists hold positive views about the central government's efforts to cool down economic growth, the survey said.
The government should reduce administrative measures in macroeconomic controls over the next six months, and a proper inflation rate should be allowed, the economists suggested.
"The government should not rush to raise the renminbi interest rate, nor cut fiscal expenditure," the economists said.
The government should encourage private investment and increase support for agriculture and small and medium-sized companies, as well as the service sector the next few months.
In addition, they called for an intensification of reforms in land use, the financial system and investment mechanism.
More than 70 per cent of the 50 economists said they were satisfied with the current economic performance.
National Bureau of Statistics spokesman Zheng Jingping said earlier that the nation's overall economic performance is good.
(China Daily August 5, 2004)